Full details on the Festival/Tokyo 2013 programs have now been released.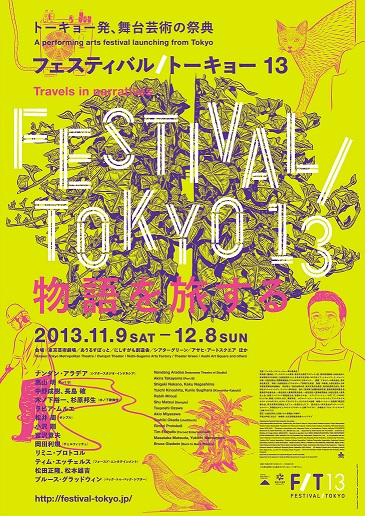 The sixth edition of Festival/Tokyo, F/T13, will be held for thirty days from November 9 (Sat) to December 8 (Sun).
In addition to previous festival's Main Program and Emerging Artists Program, this year sees the creation of the Open Program.
This includes the F/T13 Opening Event, as well a large-scale permanent installation by artist Noboru Tsubaki in the atrium of the Tokyo Metropolitan Theatre. Last year's big hit, the F/T Mob returns with an even more ambitious line-up of artists to transform the Ikebukuro area through flash mob spectacles.
F/T13's programs are themed around the concept of
"travels in narratives"
, re-inquiring into the fundamentals of theatre -- drama and fiction -- and searching for new narratives in the contemporary age.
Read F/T Program Director Chiaki Soma's concept text:
http://festival-tokyo.jp/en/ft13/concept.html
Main Program
Numerous works will explore new formats for telling stories that respond to social changes, and works that re-interpret classical texts and myths from the contexts of today.
Re-considering fiction in order to re-construct a world that has gone beyond controllable realities
"Ganesh Versus the Third Reich"
Back to Back Theatre
"Overdose: Psycho-Catastrophe"
Indonesia Theatre of Studio
"Water Like Stone"
Text: Masataka Matsuda, Direction, Stage Design: Yukichi Matsumoto
"Current Location"
chelfitsch
Inheriting and furthering the stories of eastern and western cultures, from Greek tragedy to modern plays and Japanese classics
"Tokaido Yotsuya Kaidan"
(full version) Kinoshita-Kabuki
"Yotsuya Zotanshu + Yotsuya Kaidan"
Shigeki Nakano, Kaku Nagashima
"The Long Field Trip"
Sample
Weaving the smaller stories of individuals in society, versus the grand narratives of history or ideology
Rabih Mroué Series
"33 rpm and a few seconds"
Text, Direction: Lina Saneh, Rabih Mroué
"Riding on a cloud"
Text, Direction: Rabih Mroué
"The Pixelated Revolution"
Direction: Rabih Mroué
F/T13 Jelinek Series
"Prolog?"
Direction, Design: Tsuyoshi Ozawa
"Prolog?"
Direction: Akio Miyazawa
In pursuit of the possibilities and impossibilities of telling stories
"The Coming Storm"
Forced Entertainment
Re-forming the narratives of the city
"100% Tokyo"
Rimini Protokoll
"Tokyo Heterotopia"
Port B / Concept, Direction: Akira Takayama
The
F/T Emerging Artists Program
also returns, supporting the work of younger Asian theatre artists to present their work in Tokyo. This fourth edition of the program saw 137 applicants from all over the continent apply, from which nine (four from Japan, five from overseas) were selected. The F/T Award is then given to the production in the program judged by a jury to have the greatest artist value. (Announced on December 8.)
For a full overview of the many varied events and performances happening during Festival/Tokyo 2013's thirty packed days, see the
Schedule
.
Tickets go on sale from October 5 (Sat), 10:00. Further details will be published on the F/T website from September.
We look forward to welcoming you to Ikebukuro for the performances and events!