A performing arts festival launching from Tokyo
Launched in February 2009, F/T is based mainly in the area of Ikebukuro in northwest Tokyo. Over its previous five festivals it has staged 104 productions and 780 performances, achieving audiences of over 260,000 people. It is held annually as an international arts festival representing not only Tokyo and Japan but also the whole of Asia, renowned for its cutting-edge line-up of domestic and overseas artists, and its program of interactive and participatory events.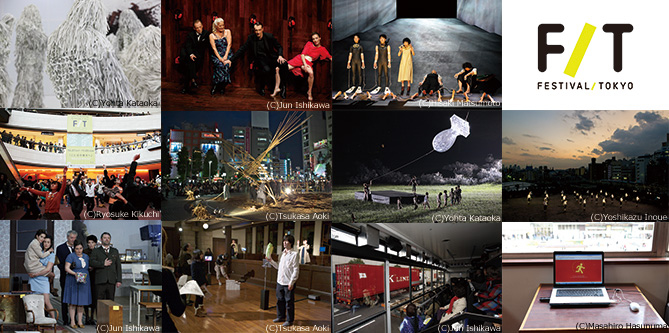 Festival/Tokyo Mission Statement

The Birth of F/T: The history of an international performing arts festival in Ikebukuro
The history of Festival/Tokyo goes back to the Tokyo International Theatre Festival 1988 Ikebukuro, which was held that year to advocate community development in the new "theatre town" Ikebukuro, where various large and small performance spaces had been appearing. While first and foremost programming highly experiment international work, it was also a local theatre festival with the proactive support of Toshima ward and with publicity co-operation from regional theatre festivals and local businesses. For its second installment in 1990, the same year the Tokyo Metropolitan Theatre (then called the Tokyo Metropolitan Art Space) opened, the Tokyo Culture Promotion Association (now called the Tokyo Metropolitan Foundation for History and Culture) joined the organizational committee, spreading the regional scale of the festival from Ikebukuro to the whole of Tokyo. With the Tokyo Performing Arts Festival 1995, the event aspired to be a truly international festival forming a base for networking with the rest of the world.

Following this, an NPO organization was established in order to safeguard the operation of the festival office, and from 2000 the organization was handled independently by NPO Arts Network Japan, the name changing to Tokyo International Arts Festival (TIF) for the eighth installment.

The name of the event changed again in 2009 to Festival/Tokyo (F/T). Now one of the enterprises within the umbrella of the Tokyo Culture Creation Project that was founded to realize Tokyo as a globally creative city, the festival today still operates through an NPO as a collaboration between the public and private sectors, and continues with new challenges, revising the possibilities and format of an urban festival while carrying on with the legacy of the history of an international performing arts festival based in Ikebukuro.
Tokyo Culture Creation Project
Tokyo Culture Creation Project, organized by the Tokyo Metropolitan Government and the Tokyo Metropolitan Foundation for History and Culture in cooperation with arts organizations and NPOs, aims to establish Tokyo as a city of global cultural creativity.
The project facilitates involvement of a larger number of people in creation of new culture, by building regional bases for culture creation across the city and offering opportunities for creative experiences to children and young people.
Moreover, it creates and globally disseminates new Tokyo culture through organizing international festivals and other diverse events.