The winner of the F/T Award 2013 has been announced.
Congratulations to Chong Wang and Théâtre du Rêve Expérimental, who have won the 2013 F/T Award for their production "The Warfare of Landmine 2.0".
Every year the F/T Award is given to the entry in the F/T Emerging Artists Program that displays the highest level of artistic standards among Asian performing arts.
The judges for this year were Norimizu Ameya (director, artist), Hidenaga Otori (theatre critic), Stefanie Carp (dramaturge), Naoto Moriyama (theatre critic) and Yinan Li (dramaturge).
The F/T Award also includes the offer of a commission to take part in next year's Festival/Tokyo Main Program.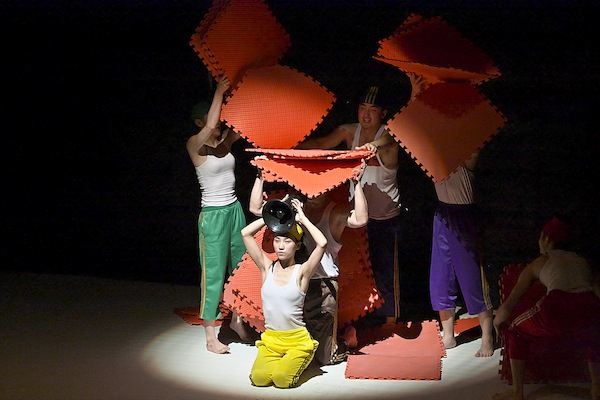 (c) Tsukasa Aoki
The judges held an reviewing session, during which votes were cast three times.
The shortlisted artists and companies from the first vote were: Q, Yeongran Suh, Théâtre du Rêve Expérimental, Tara Tan, sons wo:
The final shortlist was:
"
The Warfare of Landmine 2.0
" Théâtre du Rêve Expérimental / Text, Direction: Chong Wang [China]
"
CLOUD
" Concept, Direction: Tara Tan [Singapore]
"
Stray's Collar
" sons wo: / Text, Direction: Kishodai Kageyama [Japan]
The F/T Award was ultimately given to "The Warfare of Landmine 2.0" by Théâtre du Rêve Expérimental, which was praised for the way it created something very polished dealing with the serious theme of land mines, and yet did so with humour. Opinion was divided amongst the judges over the portrayal of war as a game, and there was much debate over whether, although it was very well put together, there were elements that the production was arguably not able to reach. There was consensus, however, over how the work was a superb piece of theatre that expressed a universal anti-war theme, rather than being about a particular conflict, and for this reason it was given the F/T Award.
Although sons wo:'s "Stray's Collar" at first appeared on the surface to be weaker as an artistic expression, it was praised for how it very sharply excised the situation in which the younger generation is placed today and, not only in Japan, it depicted a situation that was global.
In Tara Tan's "CLOUD" we could decode what Singapore is like today, and the motifs and episodes that seemed to be shared with other works were also fascinating.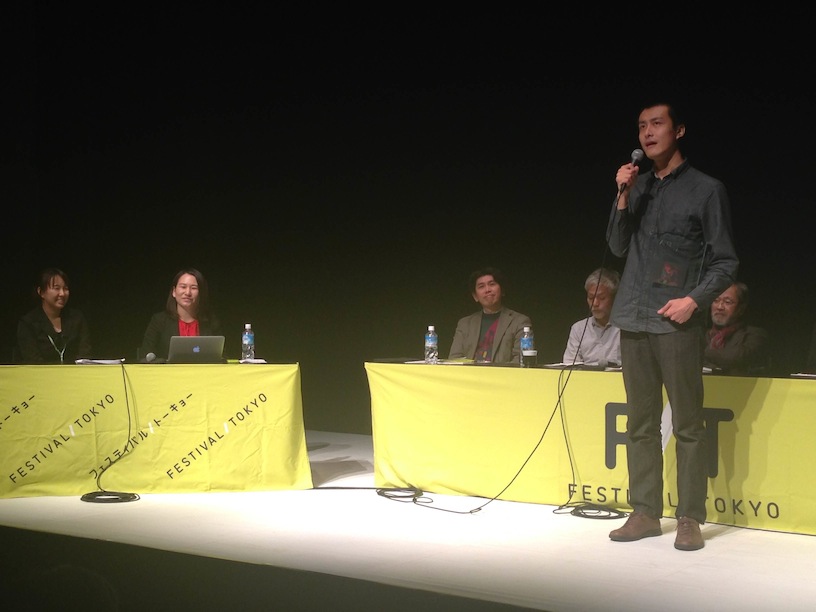 Chong Wang accepting the F/T Award
As a whole, we could feel that this was a program of works that was each communicating its own premise to the audience. We could also witness an attitude of attempting to search anew for the meaning that theatre, the performing arts and physical expression possesses. We are very happy to have encountered these works. We would also like to appraise the results achieved by the F/T Emerging Artists Program's format of an international network of performing arts based in Tokyo.
Naoto Moriyama, Judging Jury Chairman
We are very grateful to be blessed with this opportunity for exchanging our ideas. We applied two years ago and did not get through, so I am very happy to be standing here today. In those two years we have grown and the scale of the festival has also expanded. I hope we can grow and develop together, and I am very much looking forward to returning here.
Chong Wang (Théâtre du Rêve Expérimental)
The winner of the F/T Award, "The Warfare of Landmine 2.0", is a piece that was not able to be performed in Beijing due to government censorship. That this work that ridicules propaganda films from the period when China and Japan were at war could be staged here in Japan forms a valuable opportunity for showing us again the role that the medium of theatre has. The F/T Emerging Artists Program was created for looking at how to share the particular contexts in the various regions of Asia. For this, not only the staging of productions, a program that is shared through in the intermediary of language, such as review sessions and theatre criticisms, is indispensable, and these are the kinds of activities that will surely be effective in confronting the tense relations currently engulfing Asia. Please look out for the new work that Théâtre du Rêve Expérimental will stage here next year and also to the continued endeavours of Festival/Tokyo.
Chiaki Soma (F/T Program Director)
The reviewing committee and the award ceremony will be published on YouTube in the near future.
Learn more about this year's F/T Emerging Artists Program:
http://www.festival-tokyo.jp/en/13/program/13/index04.html