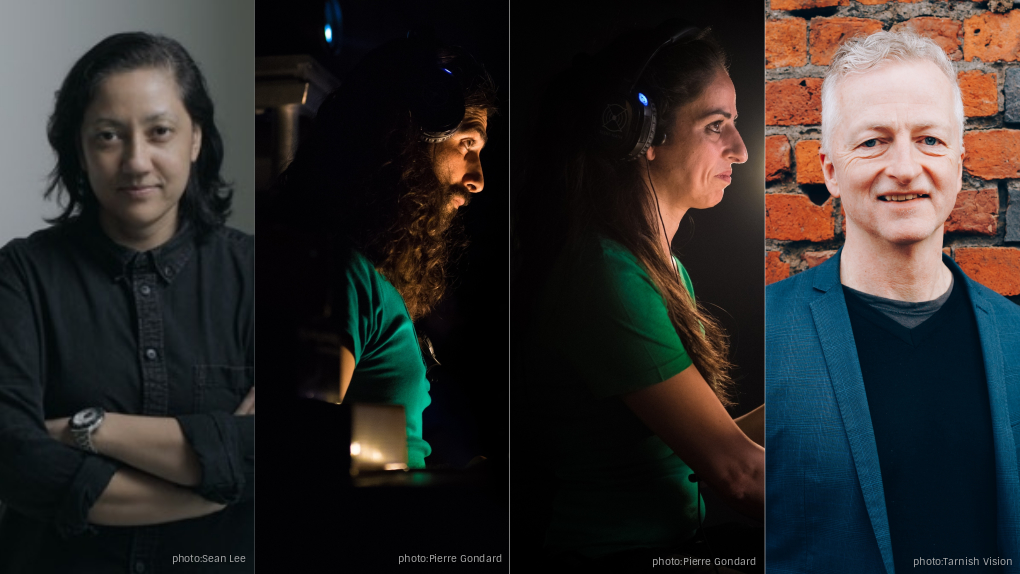 Symposium: Festival Update
Why hold a performing arts festival "in the city"? (And how to hold it even in a time of pandemic?)
Held each year since 2018, the "Festival Update" symposium series is a forum for exchanging and sharing ideas and perspectives on Tokyo and the future of festivals.

Alongside functioning as a platform for artists to make and present their work, F/T has placed importance on its identity as a festival held not only in theatre venues but "in the city" in a broader sense, and on creating things together with the people there. Around the world, there are many unique festivals aspiring toward that same goal. This symposium invites directors of such festivals to share with F/T's various local supporters and partners how their events came about and how they are responding to the coronavirus pandemic.
Information
Dates
Live stream: 10/21 (Wed) 7:00 p.m.–9:30 p.m. (TBC)
Streaming 10/22 (Thur) 12:00 p.m.–11/15 (Sun) 11:55 p.m.
Venue
F/T remote (available online)
Running Time
approx. 150 min. (TBC)
Language
Japanese or with consecutive Japanese interpretation
Please note that though some of the symposium guest speakers will speak in English and French, it is not possible for viewers to hear the presentations without the Japanese interpretation audio. Due to system and budgetary restraints, the English and French interpretation provided to the guest speakers is also not available for general viewers.
Speakers
Natalie Hennedige (Director Designate, Singapore International Festival of Arts)
Sofiane Ouissi (Artistic Director, Dream City)
Selma Ouissi (Artistic Director, Dream City)
John E. McGrath (Artistic Director and Chief Executive, Manchester International Festival)
Kaku Nagashima (Director, Festival/Tokyo)
Chika Kawai (Co-Director, Festival/Tokyo)
Profiles
Photo: Sean Lee

Natalie Hennedige


(Singapore International Festival of Arts)

Natalie Hennedige is a performance director and writer, known for her singular artistic language and creative vision exploring contemporary issues through highly constructed heightened worlds with collaborators from diverse artistic disciplines and cultural backgrounds. She served as artistic director of Cake, a performance company now in its fourteenth year of presenting progressive new works at the intersection of performance and a variety of other disciplines. Her work has been presented in both national and international venues. She is a recipient of the National Arts Council Young Artist Award (2007) and JCCI Singapore Foundation Culture Award (2010), and now serves as festival director designate for Singapore International Festival of Arts.



Sofiane Ouissi
Selma Ouissi


(Dream City)

Choreographer, dancer, and curator Sofiane Ouissi has created all his artistic projects with his sister, Selma Ouissi, from the beginning of their careers. Considered a major figure in contemporary dance in the Arab world, they have developed many choreographic concepts in and outside the black box since 2004. They collaborate with many curators around the world. In 2007, they founded the Tunisian association L'ART RUE, a multidisciplinary artistic residency dedicated to artistic production and dissemination in public space in Tunisia. Within that structure, they created the DREAM CITY festival, the rural artistic factory LAAROUSSA, the scientific magazine ZAT, the Art & Education program, and a digital performance space.
John E. McGrath


(Manchester International Festival)

John E. McGrath is artistic director and chief executive of Manchester International Festival (MIF). His first festival in 2017 featured world premieres from leading international artists; a new digital direction for MIF; a series of participatory commissions in public spaces, and My Festival, a year-round program forging closer connections with Manchester communities. In 2019, he commissioned artists including Yoko Ono, Philip Glass, Laurie Anderson, Idris Elba, and Tania Bruguera to make work for the largest ever edition of MIF. He was previously artistic director of National Theatre Wales, where he achieved a reputation for large-scale site-specific work, digital innovation, and extraordinary community involvement. As chief executive of the festival, he is also responsible for The Factory, a flagship cultural space currently being built in the heart of Manchester, which will have a year-round program of new work from the world's greatest artists, offering a space to make, explore, and experiment.