About
Festival/
Tokyo 2020
Presenting a wide and exciting range of contemporary stage performances, Festival/Tokyo (F/T) explores new social possibilities for art. Launched in 2009 and held every autumn mainly in the Ikebukuro area of Tokyo, the festival features a program of theatre, dance, music, visual art, film, and more by cutting-edge artists from Japan and around the world. Each year, F/T continues its efforts to renew the potential and model of an urban performing arts event as a festival born from the relationship between people and the city.
Directors' Message
F/T20: Whither Imaginations?
Innumerable imaginations are at this very moment opening doors somewhere.

F/T has long believed that one of the vital functions of a festival is to facilitate movement and meetings of people that are not ordinarily possible. This is because moving and meeting ushers in future possibilities. Though not entirely indifferent to economic rationality, art deliberately distances itself from the efficiency and common sense that unconsciously constrain us, and can create unexpected channels, entrances, and exits.

But as we now all know, a situation occurred globally this year whereby it became extremely difficult for people to move around and meet each other. Due to the coronavirus pandemic, the very meaning of moving and meeting has utterly changed, exposing both their risks and values. Not only between countries, it was as if boundaries between national regions, between indoors and outdoors, or even between people, had suddenly appeared.

In this kind of situation, we can all agree, the power of the imagination becomes paramount. We must consider the people who now find themselves in difficult circumstances. We must prepare for the situation to come. We also know, however, that our imaginations do not always work so conveniently. In the first place, we wouldn't have been able even to imagine this situation before the beginning of the year. Moreover, what we do imagine is not always only what is good or serious. There are times when our fractious imaginations fully devour us. We are perhaps by now tired and fed up with imagining.

But that our imaginations do not simply stop working is surely because we can't help thinking about our individual selves, other people, society, the world—and more than anything, about the future of all of these. While anticipating that the risk of infection will remain with us in the long term, we nonetheless decided to go ahead with our festival, considering it vital to secure channels for exchange within and without Japan, and to continue cultivating possibilities for the future, even if it means radically changing our approaches. Regardless of the physical restrictions imposed upon us, there are doors that our imaginations can open and there are realities that our imaginations can create.

In order that this year's festival proves an opportunity to update, together with different kinds of participants, the meaning of meeting, we are now exploring various realistic approaches with our artists and partners. We will keep you informed of new circumstances as they arise. We look forward to welcoming you to the festival this autumn.
Kaku Nagashima (Director),
Chika Kawai (Co-Director)
Festival Overview
Name
Festival/Tokyo 2020 (F/T20)
Dates
Friday, October 16–Sunday, November 15, 2020
Venues
Tokyo Metropolitan Theatre, TRAM-PAL Otsuka, shopping streets in Toshima, online, and other locations
"Transfield from Asia"

Grant:
The Japan Foundation Asia Center
Grant Program for the Promotion of Cultural Collaboration
Organizers
Festival/Tokyo Executive Committee (Toshima City, Toshima Mirai Cultural Foundation, NPO Arts Network Japan [NPO-ANJ]),
Tokyo Festival Executive Committee (Toshima City, Toshima Mirai Cultural Foundation, Festival/Tokyo Executive Committee, Tokyo Metropolitan Foundation for History and Culture [Tokyo Metropolitan Theatre & Arts Council Tokyo])
Sponsored by
Asahi Group Holdings, Ltd.
Endorsed by
the Ministry of Foreign Affairs, GEIDANKYO, J-WAVE 81.3 FM
Special cooperation from
SEIBU IKEBUKUROHONTEN, TOBU DEPARTMENT STORE IKEBUKURO, TOBU RAILWAY CO., LTD., Sunshine City, Junkudo Ikebukuro, RISO KAGAKU CORPORATION, Hoshino Resorts OMO5 Tokyo Otsuka
In cooperation with
Tokyo Chamber of Commerce and Industry Toshima, Toshima City Shopping Street Federation, Toshima City Federation, Toshima City Tourism Association, Toshima Industry Association, Toshima Corporate Taxpayers' Association, Ikebukuro Nishiguchi Shopping Street Federation, NPO Zephyr, Hotel Metropolitan Tokyo Ikebukuro, Hotel Grand City Ikebukuro, Ikebukuro Hotel Association, Sunshine City Prince Hotel, HOTEL RESOL IKEBUKURO
PR Support
Poster Hari's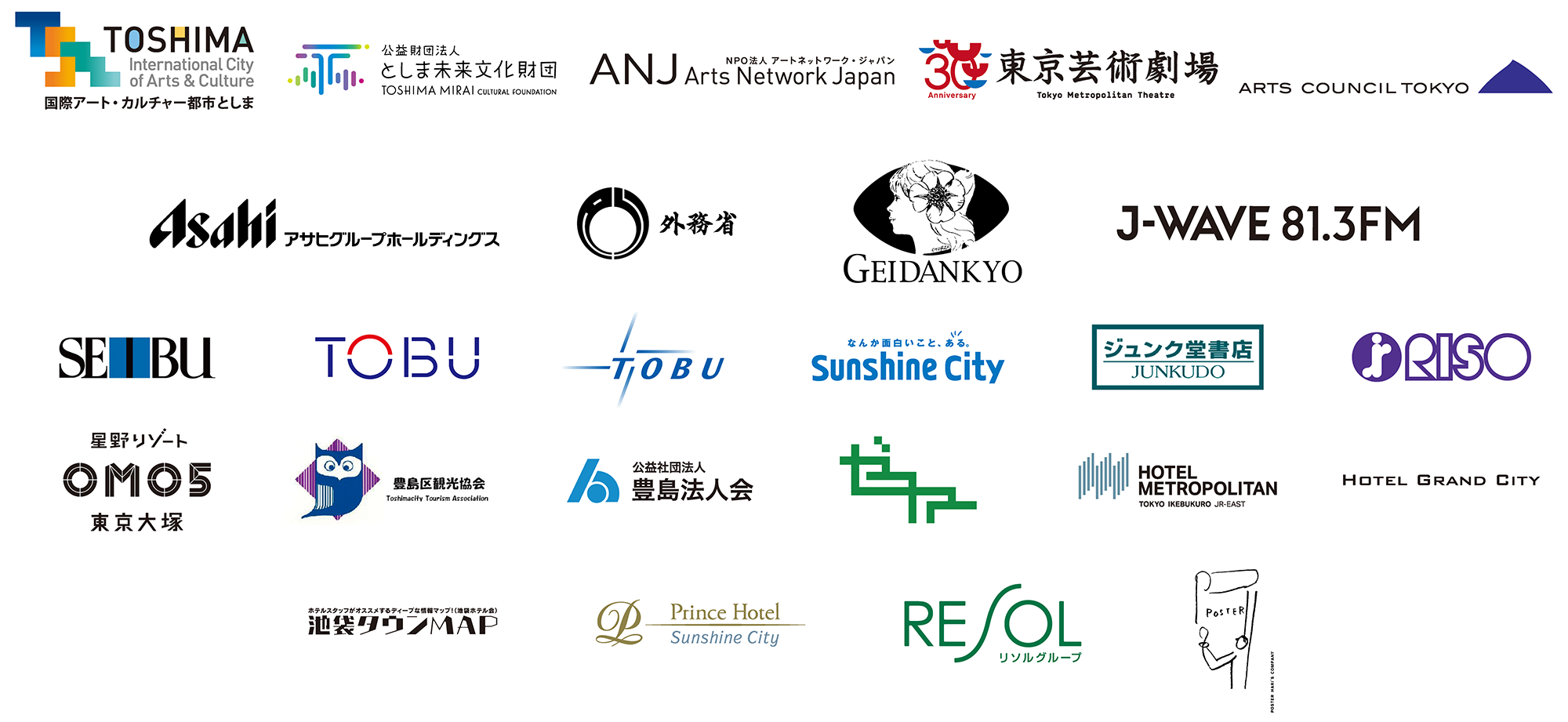 Supported by the Agency for Cultural Affairs, Government of Japan in fiscal 2020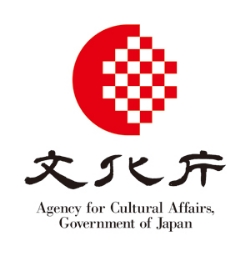 Festival/Tokyo 2020 is organized as part of Tokyo Festival 2020.
Festival/Tokyo Executive Committee
Advisor

Man Nomura

(Chair, Japan Council of Performers Rights & Performing Arts Organizations; Noh actor)

Honorary President of the Executive Committee

Yukio Takano

(Mayor of Toshima City)

Chair of the Executive Committee

Shigeo Fukuchi

(Advisor, New National Theatre Foundation; Advisor, Association for Corporate Support of the Arts; Senior Alumnus, Asahi Group Holdings, Ltd.)

Vice Chairs of the Executive Committee

Sachio Ichimura

(Advisor, NPO Arts Network Japan)

Chikara Fujita

(Director, Culture, Commerce and Industry Division, Toshima City)

Koichi Ozawa

(Administrative Director, Toshima Mirai Cultural Foundation)

Committee Members

Motoki Ozaki

(President, Association for Corporate Support of the Arts; Corporate Advisor, Kao Corporation))

Sumiko Kumakura

(Professor, Graduate School of Global Arts, Tokyo University of the Arts)

Masashi Nakata

(Senior Officer, Business Planning Department, Japan Headquarters, Asahi Group Holdings, Ltd.)

Hiroyuki Watanabe

(Chair, Tokyo Chamber of Commerce and Industry Toshima)

Taeko Nagai

(Chair, Setagaya Arts Foundation)

Kei Ogura

(Director, Cultural Design Section, Culture, Commerce and Industry Division, Toshima City)

Naoko Hasuike

(Toshima Mirai Cultural Foundation; Executive Director, Owlspot Theatre / Toshima Performing Arts Center)

Akiko Yonehara

(Representative, NPO Arts Network Japan)

Kaku Nagashima

(Director, Festival/Tokyo)

Chika Kawai

(Co-Director, Festival/Tokyo)

Madoka Ashihara

(Administrative Director, Festival/Tokyo)

Supervisor

Kinuko Noto

(Director, General Affairs Section, General Affairs Division, Toshima City)

Legal Advisors

Kensaku Fukui, Hisato Kitazawa

(Kotto Dori Law Office)
Festival/Tokyo Executive Committee Secretariat
| | |
| --- | --- |
| Director | Kaku Nagashima |
| Co-Director | Chika Kawai |
| Administrative Director | Madoka Ashihara |
| Production Coordinators | Maki Fujishima, Keisuke Shimada, Momoka Yunoki, Chihiro Suzuki, Yuuri Fujii, Takashi Osada, Masao Yamagata, Yuko Igari, Maiko Iwama, Yuko Uematsu (syuz'gen), Miki Kanai, Yoshiyuki Shida, Saeko Hagiya, Mei Miyauchi, Aki Miyatake, Shoko Miyamoto (syuz'gen) |
| Communication Design Director (PR, Education & Outreach) | Akiko Ogura |
| Communication Design (PR, Education & Outreach) | Mone Natori, Noriko Okano, Hironobu Hosokawa |
| Communication Design Assistants (PR, Education & Outreach) | Kiyonari Morikawa, Asumi Ueda |
| Ticket Manager | Kazumi Takei |
| Liaison Officer | Shiho Ota |
| Accounting | Kumiko Tsutsumi, countroom inc. (Makoto Gotoh, Kyoichi Nakayama) |
| Administrator | Akiko Yonehara |
| | |
| --- | --- |
| Technical Director | Eiji Torakawa |
| Lighting Coordinator | Naoki Kinoshita (Factor Co., Ltd.) |
| Sound Coordinator | Akira Aikawa (Sound Weeds Inc.) |
| Art Director | Yui Takada (Allright Graphics) |
| Design | Takumi Saito (Allright Graphics) |
| Design Coordinator | Mai Hojo (Allright Graphics) |
| Illustrator | Akina Haga |
| PR Video Music | Kiyomaru Togo (Allright Music) |
| Publicity Video | Dino Sato |
| Website | Shun Aizawa (Mtame, Inc.) |
| Overseas Public Relations | William Andrews |
| Copywriting | Rieko Suzuki |
Past Festivals