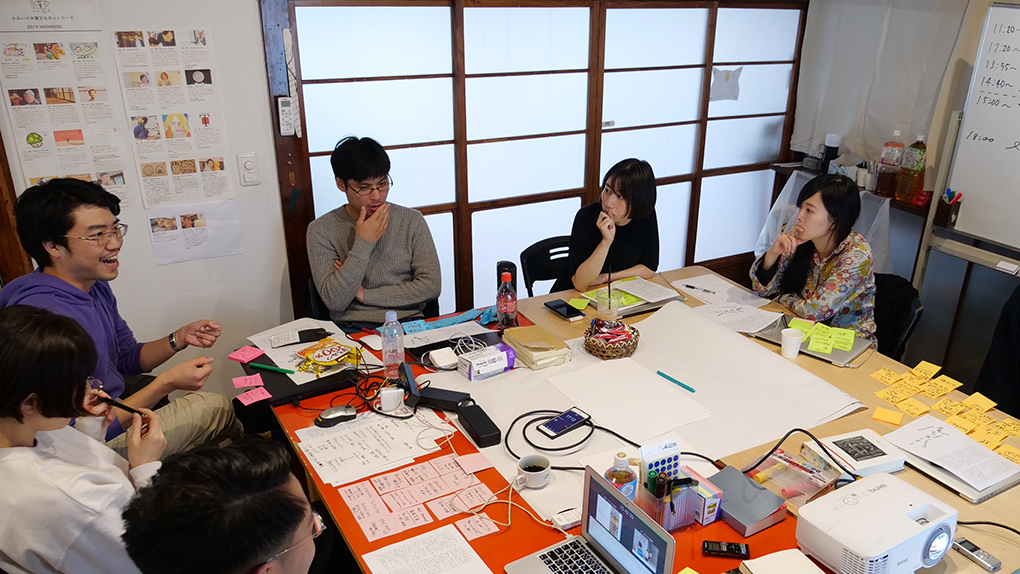 Photo: Kazuya Kato
Artist Pit
Training the next generation of creative talent
Launched in 2019, Artist Pit is a training program for the next generation of creative talent. At F/T19, the dancer and artist Saori Hala served as facilitator for a series of discussion-style workshops in small groups for young artists pursuing forms of expression that use the body. The F/T20 program will be held after the festival with a new theme and participants.
Artist Pit
Artist Pit is a program that aims to train and cultivate artists to acquire the language and techniques needed for their practices as well as increase the quality of their work and creative process through mutual feedback.
With the recent spread of art projects, there are fewer hurdles for artists to participate or present their work. F/T believes that such developments should be welcomed as liberating for art and should be promoted further. On the other hand, this also makes it even more important that professional artists deepen their ideas and attain higher levels of technical proficiency.
The program name is inspired by the pit stop in motorsports. In this way, it serves as a place for artists to refuel or undergo repairs and maintenance in between laps of the circuit, while also forming a deep "pit" into which artists might fall during their careers. The name reflects the program's function as both a place for reviewing and improving themselves, and a place that puts artists to the test whereby they must "crawl" out by themselves.
F/T19 Artist Pit
https://www.festival-tokyo.jp/19/en/program/artist-pit.html
Facilitator Profile
Kaori Nishio

Playwright, director, and head of Bird Park, Kaori Nishio was born in 1985 in Tokyo and spent her youth in Malaysia. As an undergraduate, she did research on Shuji Terayama at the University of Tokyo, and then did postgraduate research on Shogo Ota at Tokyo University of the Arts. After founding Bird Park in 2007, she has continued to serve as writer and director for all its productions. In 2020, Bird Park welcomed three directors as associate artists, allowing Nishio to focus on playwriting and running the company. She has been shortlisted for the Kishida Kunio Drama Award three times. In addition to her activities with her company, she is conducting research into Karayuki-san, the Japanese women trafficked to various places around the world in the late nineteenth and early twentieth centuries, in collaboration with the Malaysian dancer and choreographer Lee Ren Xin. She was a Saison Fellow from 2015 to 2020.



Guest Instructor Profiles
Koichiro Kokubun

Born in 1974, Koichiro Kokubun completed doctoral studies at the University of Tokyo's Graduate School of Arts and Sciences, obtaining a PhD. He is currently an associate professor at the University of Tokyo's Graduate School of Arts and Sciences and College of Arts and Sciences. He is the author of many books and the translator into Japanese of works by Derrida, Deleuze, and others.



Wataru Asada

Born in 1979 in Osaka, Wataru Asada is a self-professed cultural activist. Interpreting interactions with others in strange, unprecedented ways as forms of art, he develops art projects rooted in local communities, including towns and cities around Japan, welfare facilities, schools, and housing for disaster victims. In 2009, he gained prominence for launching a movement in which he opened up his own home to others. He has since published many writings in which he explores ideal forms of communities from cultural approaches. He is an artist, writer, and art director of a support center for children with disabilities. He holds a PhD and teaches part-time at the University of Tokyo Graduate School and Seika University. He is the author of several books and also a member of the sound project SjQ++, which won an Award of Distinction in the Digital Musics & Sound Art category at Ars Electronica 2013.


Participant Profiles



Takuya Ito

Born in 1980 in Gifu City, Takuya Ito is a director who engages with the highly personal through such workshops as "Taste-Training Party," "Weekend Exercise: Speak in English with Your Partner," and "Daily Exercise: When Does My Daughter Laugh?" His major work includes a reading of a play documenting 69 hours of radio reporting about the Great Hanshin Earthquake, and a play about the Sagami massacre. With a focus on documentary approaches, he is interested in gatherings of people and in using theatre to engage with social issues. He taught at the second session of the Engeki Elite School.






Junsuke Okawara

Born in 1981 in Sendai, Miyagi Prefecture, where he continues to live, Junsuke Okawara majored in theatre at Toho Gakuen College of Drama and Music. He founded LondonPANDA in 2007. His awards to date include Best Director at the 2010 Sakichi Sato Awards and the Award for Excellence at the Young Directors Contest. In 2015, he studied in London. After returning to Japan, he has based himself in his hometown of Sendai since 2016. Alongside his high-octane creativity and performances, he also actively plans and runs workshops.






Mizuki Kondo

After graduating from the theatre course at Waseda University's School of Humanities and Social Sciences in 2014, Mizuki Kondo moved to France. In 2017, she graduated from the Conservatoire de Nantes at the top of her acting class. Her performing credits include Nathalie Béasse's "Mes petites météorites" and "Song for you," and the short film "7 Lives" from director Jan Kounen. She is currently studying directing at the Institut Supérieur des Arts du Spectacle in Belgium.





Itto Sakai

Born in 1992 in Tokyo, Itto Sakai creates places for freedom that release people from social roles, positions, our affiliations, and the norms of the community. He runs "not acting" workshops that confront the person in front of you and examine one-on-one relationships. Since spring 2020, he has been based in Toyooka in Hyogo Prefecture, where he works as a coordinator for the fringe program of the Toyooka Theater Festival.
http://ittosakai.net/



Rino Daidoji

Born in Tokyo in 1982, Rino Daidoji was a founding member of FAIFAI and has appeared in the group's work in Japan and beyond from 2005 to the present. She launched her solo practice in 2014, staging performances in such places as Tokyo, Yokohama, Beijing, Hong Kong, and Bangkok. She moved to Cesena in 2015 and has since based herself between Italy and Japan. In her work, she creates contemporary fantasies out of stories connected to her own everyday life and that of others around her.






Yuta Hagiwara

Yuta Hagiwara is a director and the founder of the theatre company Kamome Machine. He won the 13th AAF Playwriting Award and the Toga Theatre Competition Excellence Award in 2016. In 2017, he presented his work at Temps d'Images Cluj in Romania. In 2018, he participated in Theatertreffen International Forum in Berlin. His major work includes "Waiting for Godot at Fukushima," "OREGAYO," and "Happy Days." He has been a Saison Fellow since 2019.