F/T13 Documents on sale from May 20
F/T13 Documents, a book that documents and expands on last year's Festival/Tokyo, will go on sale from May 20. Copies can now be pre-ordered via Amazon Japan.
Every year we publish a post-festival report, reflecting on the events and performances from the previous autumn. This year's Documents comes in a compact size, and includes full colour photographs and numerous articles and essays on the issues raised by the F/T13 programs.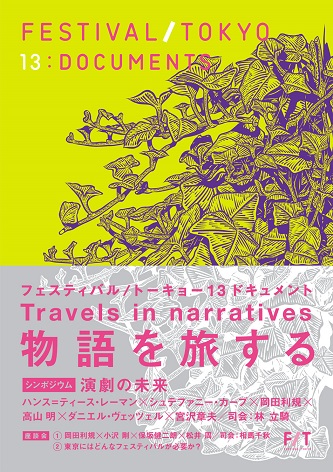 F/T13 Documents features round-table discussions as well as critical essays on the various performances that appeared in F/T13. Contributions come from Toshiki Okada, Akira Takayama, Akio Miyazawa, Midori Matsui, Hiroki Azuma, Hans-Thies Lehmann, Stefanie Carp, Yasumasa Morimura and many others.
Although most content is only available in Japanese, English summaries are given for the productions and there is an English translation of the essay by departing Program Director Chiaki Soma.
You can learn more about the book by reading our Japanese news article.
F/T13 Documents: Travels in narratives
¥1,400 (+ tax)
Paperback, 216 pages