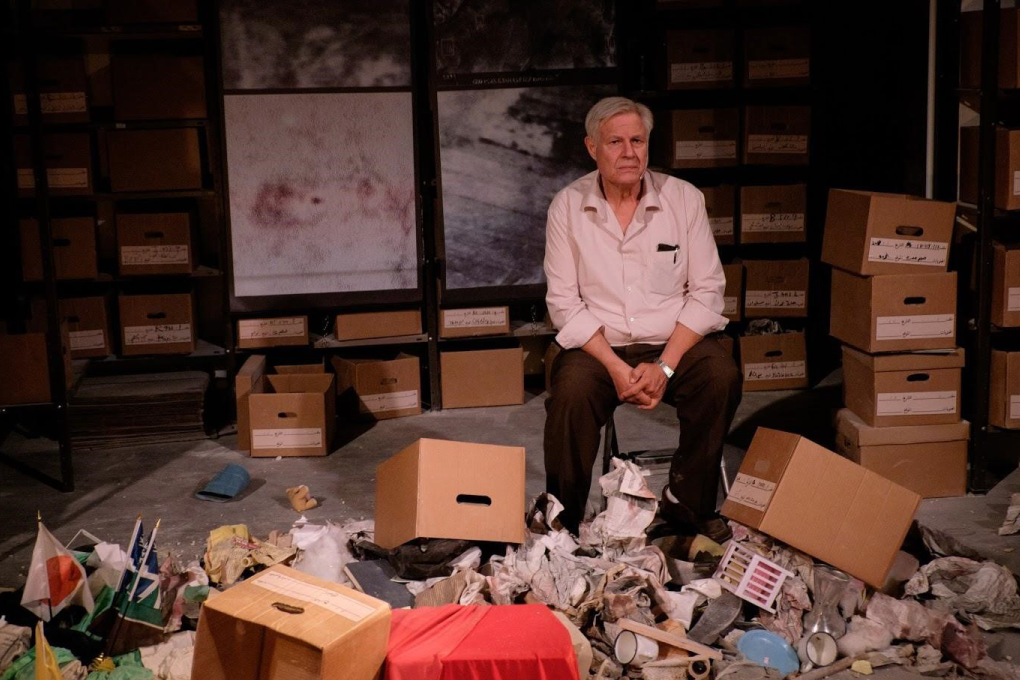 © David Kaplan
Palestine, Year Zero
Written and Directed by Einat Weizman
How to Watch
To watch the video, please purchase a ticket on Peatix. Tickets on sale:
September 17, 2021, 9 a.m.–September 26, 2021, 7 p.m.

If you purchase a pass on Peatix to view all the videos in the lineup, you will receive links to view the videos after they become available.
Streaming:

September 17, 2021, 9 a.m.–September 26, 2021, 11:59 p.m. 

[Finished]



Tickets:

¥500 Pass (All Videos): ¥1,500
About
The director and human rights activist Einat Weizman's play "Palestine, Year Zero" stars George Ibrahim of Al-Kasaba Theatre and Cinematheque and F/T14's "Rashomon | Yabunonaka" (2016).

The play is set in the office of a Palestinian real estate appraiser dealing with homes destroyed by the Israeli armed forces. These at times humorous scenes are all based on actual incidents. As the play unfolds, the office fills with rubble. For the appraiser, who originally wanted to be an archaeologist, this destruction is symptomatic of both the history and present reality of the Palestinians.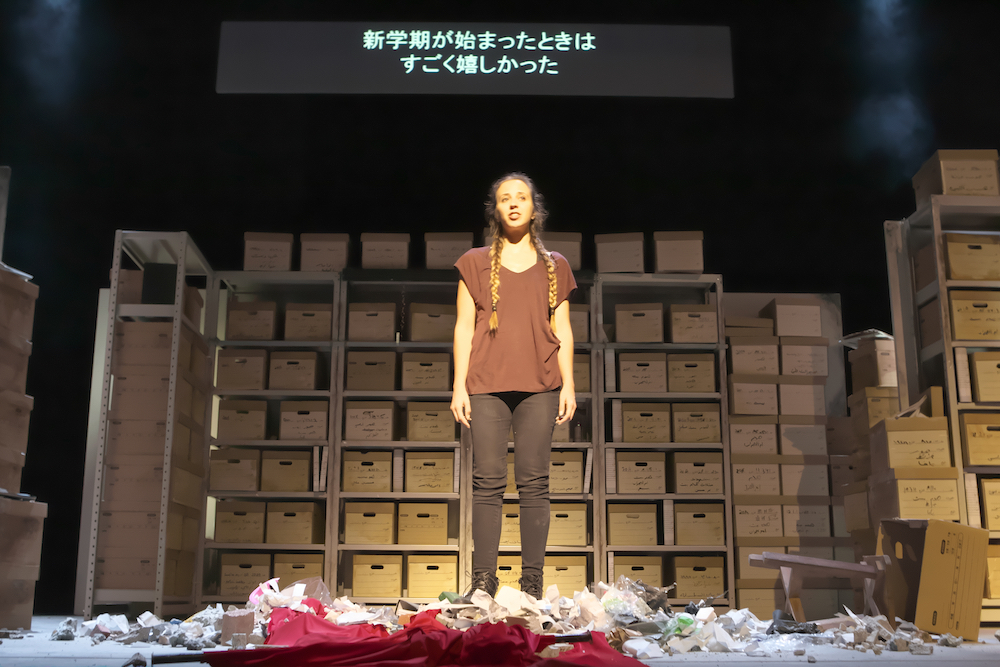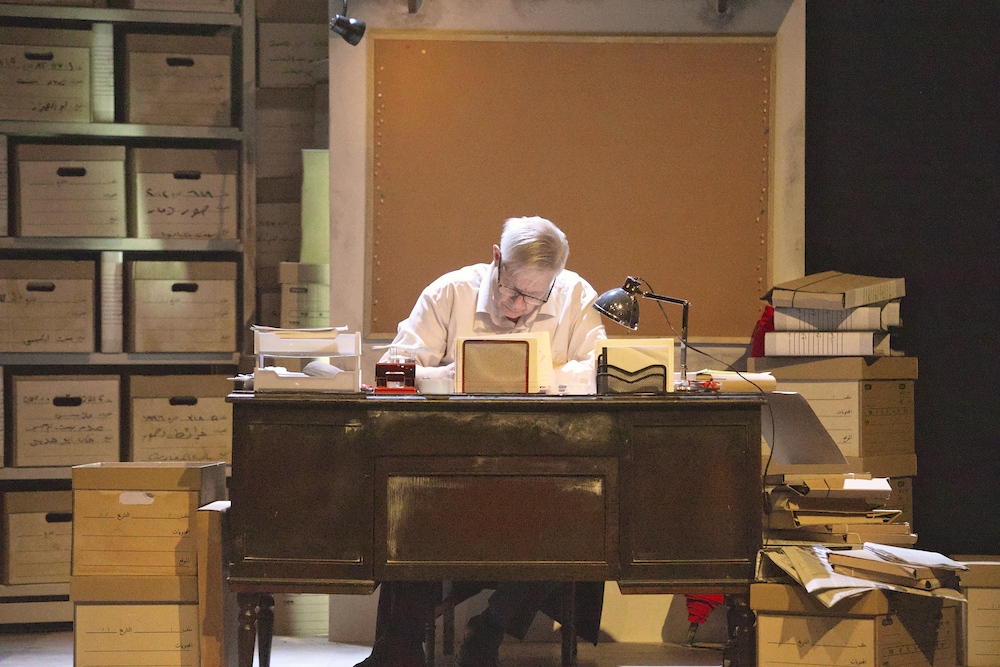 Photo: Tsukasa Aoki
Video Credits
| | |
| --- | --- |
| Title | Palestine, Year Zero |
| Venue | Owlspot Theatre |
| Recording date | October 27, 2017 |
| Duration | 54 min. |
| Language | Performed in Arabic and Hebrew |
| Subtitles | Japanese and English subtitles |
| Original production page | Palestine, Year Zero (F/T17) |
Essay
Artist Profiles
Einat Weizman

Actor, playwright, director, human rights activist
Born in Haifa in 1973, Einat Weizman studied acting in the United States and Britain before majoring in film and politics at Tel Aviv University. While starring in lead roles in film, television, and theatre, she has also carved out a reputation as a columnist writing about politics and social issues. As a director and playwright, her recent work has radically criticized the Israeli policy of occupation. Her major work includes "Shame" (2015), "The 112 House: A Lesson in Political Construction" (2017), "I, Dareen T." (2018), "Prisoners of the Occupation" (2019), and "How to make a revolution" (2021). Weizman's plays have been performed around the world, including in India, Norway, France, Belgian, Italy, and Japan.
Prizes: Solidarity Grant, Dramatists Guild (Oslo, Norway 2018), Essential Art winner (NIF, 2020)
https://www.einatweizman.com/
George Ibrahim

Actor, director, playwright, founder and artistic director of Al-Kasaba Theatre and Cinematheque
Born in 1945, George Ibrahim built his career as an actor before studying theatre at the Hebrew University of Jerusalem and going on to work as a playwright, adapter, and director. He is the author of many plays and was the president of the Palestinian Actors league for eight years. A number of his plays have won prizes for best actor, best director, and best performance at Carthage International Theatre Festival and Cairo International Festival. He won Best Actor at Acco Festival of Alternative Theatre for "Palestine Year Zero." His other accolades include the Palestinian National Award for Theatre in 1998. He has participated in a number of international festivals and toured with his company to various Arab countries and others. He previously visited Japan with "Alive From Palestine (Stories Under Occupation)" (2004, 2011) and "The Wall—Stories Under Occupation II" (2005) as well as "Rashomon | Yabunonaka" at F/T14, created in collaboration with director Yukari Sakata.