"Palestine, Year Zero"
Written and Directed by Einat Weizman
October 27th — October 29th
Venue
Owlspot Theater
Dates
10/27 (Fri) 19:30*
10/28 (Sat) 19:30*
10/29 (Sun) 14:00**

*Pre-show talk
**Pre-show and post-show talk
Box office opens 1 hour before. Doors open 15 minutes before.

Running Time
60 min.
Language
Performed in Arabic and Hebrew with Japanese surtitles
Tickets
All seats reserved
Advance: ¥4,000 / Same Day: ¥4,500 / Students: ¥2,600 / Other tickets available

Early Bird Discount
¥2,800
Festival Pass (5 Performances)
¥3,200
Festival Pass (3 Performances)
¥3,400
Students


Student ID required

¥2,600
High School Students and Under


Student ID or proof of age required

¥1,000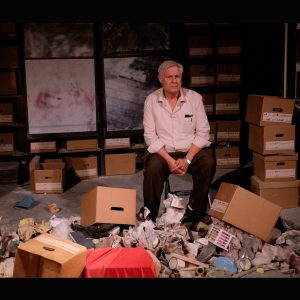 Photo: David Kaplan
Out of the rubble, excavating the reality in Palestine today
Fresh from its acclaimed premiere last year, Israeli actor and human rights activist Einat Weizman brings "Palestine, Year Zero" to Tokyo, starring George Ibrahim of Al-Kasaba Theatre and Cinematheque and F/T14's "Rashomon | Yabunonaka."
The play is set in the office of a Palestinian real estate appraiser dealing with homes destroyed by the Israeli armed forces. On his desk are boxes that he empties one by one. We watch as he goes from house to house, writing reports on the damage. These at times humorous scenes are all based on actual incidents. Not surprisingly, the play caused considerable controversy when it was first staged at Acco Festival of Alternative Israeli Theatre, with the culture minister ordering the script be vetted before the premiere.
As the play unfolds, the office fills with rubble. For the appraiser, who originally wanted to be an archaeologist, this destruction is symptomatic of both the history and present reality of the Palestinians.
Photos
Artist Profiles
Einat Weizman
Actor, Playwright, Director, Human Rights Activist
Born in Haifa in 1973, Einat Weizman studied acting in American and the UK before majoring in film and politics at Tel Aviv University. While starring in lead roles in film, television and theatre, she has also carved out a reputation as a columnist about politics and social issues. As a director and playwright, her recent work has radically criticized the Israeli policy of occupation. Her major work includes "Shame" (2015) and "The 112 House: A Lesson in Political Construction" (2017).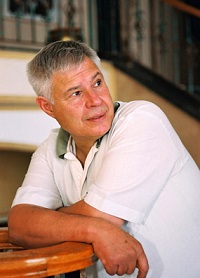 George Ibrahim
Actor, Founder and Artistic Director of Al-Kasaba Theatre and Cinematheque
Born in 1945, George Ibrahim built a career as an actor before studying theatre at Hebrew University of Jerusalem, and going on to work as a playwright and director. His major work includes "Ramzi Abu Al-Majd," which won the Best Actor Award at the Carthage International Theatre Festival 1995, and "Immigrant," which won prizes for directing and costume design at the Carthage International Theatre Festival in 1999. He won Best Performer at Acco Festival of Alternative Israeli Theatre for "Palestine, Year Zero." He previously visited Japan with "Alive From Palestine (Stories Under Occupation)" (2004, 2011) and "The Wall'ÄîStories Under Occupation II" (2005) as well as "Rashomon | Yabunonaka" at F/T14 in collaboration with director Yukari Sakata.
Pre-Show Talks
Held in the theatre lobby. Open to audiences with tickets to performances that day.

10/27 (Fri) 18:40-19:10
Guest Speaker: Toshikuni Doi (freelance journalist)
Language: Japanese

10/28 (Sat) 18:40-19:10, 10/29 (Sun) 13:10-13:40
Guest Speakers: Mari Oka (modern Arabic literature researcher / Graduate School of Human and Environmental Studies, Kyoto University) + Einat Weizman
Language: Japanese and English (with consecutive interpretation)


Post-Show Talk
10/29 (Sun)
Guest Speakers: Einat Weizman + George Ibrahim
Moderator: Mari Oka
Language: English and Japanese (interpretation from English to Japanese only)

Toshikuni Doi
Freelance journalist


Born in 1953 in Saga Prefecture, Toshikuni Doi first became involved with the Palestinian-Israeli problem in 1985. He has been filming in Palestine and Israel for 17 years, and, working with the Palestinian Documentary Society, completed the four-part "Unheard Voices: Palestinians, Israelis, and the Occupation" in 2009. His recent work includes "Life in Gaza" and "Attack on Gaza: Summer 2014" (both 2015).


Mari Oka
Modern Arabic literature researcher / Graduate School of Human and Environmental Studies, Kyoto University


Born in Tokyo in 1960, Mari Oka is a specialist in modern Arabic literature. Following her encounter with the plight of the Palestinians through the work of Ghassan Kanafani while a student, she has continued to be involved with projects and research related to the Palestinians. She is the author on many books about Arabic literature and also the leader of Readers Without Borders, which presents public readings of plays. She recently wrote and directed "The Message from Gaza" as part of her pursuit of the power of literature and the natural voice.
Film Screenings
Documentary
"Unheard Voices: Palestinians, Israelis, and the Occupation" (2009)
Part 2: Encroachment (2009 / 121 min.)
Homes are demolished and the residency rights of Palestinians in Jerusalem are usurped, while elsewhere the "separation wall" encroaches on land and resources, depriving Palestinians of the foundation for building an independent state.

Director: Toshikuni Doi
In Arabic with Japanese subtitles
Date: 10/8 (Sun) 14:00
Venue: Tokyo Metropolitan Theatre (Atelier East)
Tickets: Free (no reservation required)

F/T14 Performance Video
"Rashomon | Yabunonaka"
George Ibrahim (Al-Kasaba Theatre) (Artistic Director) [Palestine] + Yukari Sakata (Director) [Japan] + Mé (Stage Design) [Japan] + Kaku Nagashima (Dramaturgy) [Japan]


In 2014, Festival/Tokyo worked with Al-Kasaba Theatre's George Ibrahim, who performs Einat Weizman's "Palestine, Year Zero." Teaming up with the director Yukari Sakata, the dramaturge Kaku Nagashima and visual art unit Mé, "Rashomon | Yabunonaka" was a unique theatrical event inspired by Kurosawa's film "Rashomon" and Akutagawa's original short stories with a Middle East twist. This is a screening of video footage of the performance at F/T14.



Date: 10/9 (Mon) 15:30
Venue: Tokyo Metropolitan Theatre (Atelier East)
Tickets: Free (no reservation required)

Further information

Cast & Creative
| | |
| --- | --- |
| Written & Directed by | Einat Weizman |
| Cast: | Georges Ibrahim, Gassan Ashkar, Amjad Badr, Rebecca Telhami |
| Text Supervision: | Eyal Weitzman |
| Translation: | Abed Natour |
| Stage Manager: | Tamara Habash |
| Dramaturge: | Avner Ben-Amos |
| Lighting Design: | Amir Castro |
| Lighting Operator: | Eyas Natour |
| Music: | Suleiman Faraj |
| Stage & Costume Design: | Salim Shehade |
| Surtitles Operator: | Hanna Habash |
| Producer: | Nana Traub |
| | |
| Tokyo Production | |
| Technical Manager: | Eiji Torakawa |
| Assistant Technical Manager: | Chizuru Kouno |
| Stage Manager | Kohei Ogawa |
| Stage Assistant: | Shiori Fukuzawa |
| Stage Design Coordinator: | Tomomi Nakamura |
| Props: | Hikari Osanai |
| Lighting Coordinator: | Naoki Kinoshita (Factor Co., Ltd.) |
| Sound Coordinator: | Akira Aikawa (Sound Weeds Inc.) |
| Surtitles: | Yumiko Yokoo |
| Translator & Technical Interpreter: | Maho Watanabe |
| Publicity Design: | Taichi Abe (GOKIGEN) |
| | |
| Photography: | Tsukasa Aoki |
| Video Documentation: | SAIKOUDO Co., Ltd. |
| | |
| Production Coordinator: | Akiko Juman (Festival/Tokyo) |
| Production Assistant, Front of House: | Niina Sugai |
| Interns: | Mayu Umemura, Zhuoran Rong, Natsuko Nishi, Ayano Nishimoto, Kotono Horikoshi |
| | |
| Program Coordinator: | Maho Watanabe |
| | |
| Presented by | Festival/Tokyo |