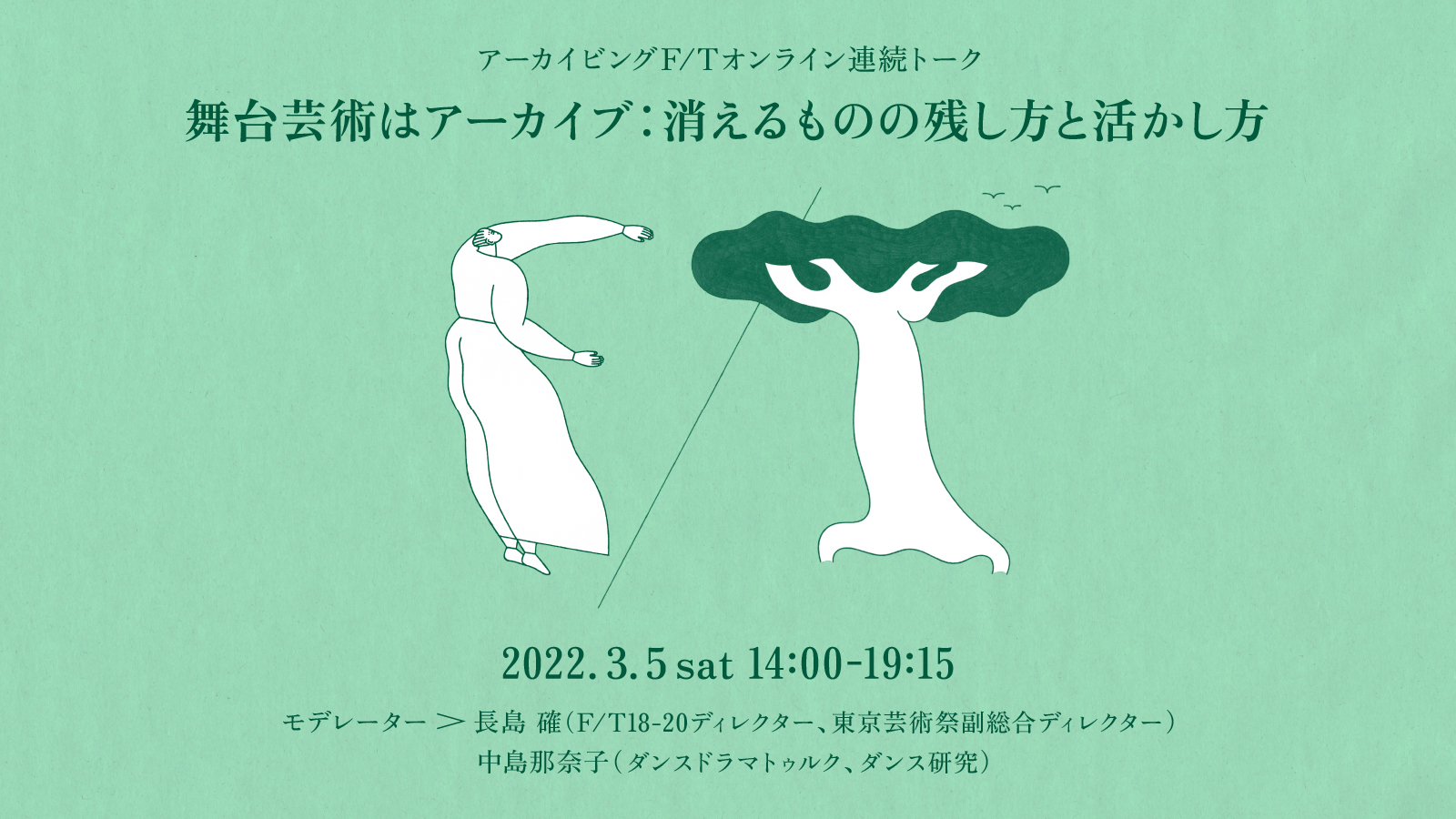 Archiving F/T Online Talks Series
Performing Arts Archives: Preserving and Utilizing the Impermanent




Festival/Tokyo came to an end in 2020. The Festival/Tokyo Executive Committee is continuing to release videos of past performances and create a database for audiences and future artists. As part of these efforts, a series of talks will be held with artists and specialists who have undertaken creative practices related to archiving the performing arts. Sparked by the arrival of the coronavirus pandemic that has restricted in-person events, a lively debate is unfolding today over how to preserve and present performances. These talks will hear from various people at the frontline of such activities.

The moderators are Kaku Nagashima and Nanako Nakashima, who have both worked as dramaturges closely involved in the creative processes behind theatre and dance. They will discuss with the guest speakers different approaches to archiving the performing arts and how to make use of such archives. The guest speakers are: Naoyuki Miura, the playwright and director who has actively streamed theatre performances and also published scripts for free online; Takaki Sudo, who has filmed many performing arts and visual art works; Yuni Hong Charpe, who is currently working on a lecture-performance based on research about archival materials; Chieko Ito and Yukio Suzuki, who have previously produced dance "archive boxes"; and two artists from Berlin who have created a performance in response to Suzuki's "archive boxes."

This series of talks will think creatively about archiving the performing arts through the various approaches in which the speakers have engaged over the course of their efforts to leave their work and activities behind for the future.



Information
Title
Online Talks Series
Performing Arts Archives: Preserving and Utilizing the Impermanent
Dates

Streaming (Live): Saturday, March 5, 2022, 2:00–7:15 p.m.[Finished]

Archive Text: April 2022 (TBC)

Venue
F/T remote (available online)
Language
Japanese
Speakers

Moderators:
Kaku Nagashima (Director, F/T18–20; Vice General Director, Tokyo Festival)
Nanako Nakajima (dance dramaturge, dance researcher)

Guest Speakers:
Naoyuki Miura (playwright, director)
Takaki Sudo (video director)
Yuni Hong Charpe (artist)
Chieko Ito (dancer, choreographer)
Yukio Suzuki (dancer, choreographer)
Lena Michaelis (dancer, choreographer)
Maxie Liebschner (researcher, creative)

Timetable
2:00–3:00 p.m. Kaku Nagashima, Nanako Nakajima

3:00–3:50 p.m. Naoyuki Miura

4:00–4:50 p.m. Takaki Sudo

5:00–5:50 p.m. Yuni Hong Charpe

6:00–6:50 p.m. Chieko Ito, Yukio Suzuki, Lena Michaelis, Maxie Liebschner

6:50–7:15 p.m. Kaku Nagashima, Nanako Nakajima


Profiles
Kaku Nagashima

Kaku Nagashima is a performing arts dramaturge. His hands-on involvement with theatre started as a surtitles operator and script translator while he was researching and translating Samuel Beckett's late prose works for his graduate studies. A pioneer of dramaturgy in Japan, he has participated in a wide range of collaborative projects from theatre to dance, opera, and art. He served as director of Festival/Tokyo with Chika Kawai from 2018 to 2020, and is currently the vice general director of Tokyo Festival.
Nanako Nakajima

Dr. Nanako Nakajima is a scholar and dance dramaturge. She was Valeska Gert Visiting Professor 2019/20 at Freie Universität Berlin. Her recent research and dramaturgy projects include "Yvonne Rainer Performative Exhibition" at Kyoto Art Theater Shunjuza in 2017 and the lecture-p erformance "Noh to Trio A" at Nagoya Noh Theater in 2021. She received the Special Commendation of the Elliott Hayes Award in 2017 for Outstanding Achievement in Dramaturgy from the Literary Manager and Dramaturgs of the Americas. Her publications include The Aging Body in Dance: A Cross-Ccultural Perspective. She recently launched a bilingual website on dance dramaturgy (http://www.dancedramaturgy.org).
Naoyuki Miura

Naoyuki Miura is a playwright, director, and head of the theatre company LOLO, which he launched in 2009. His work re-examines existing forms of relationships like family and lovers, and portrays highly unusual boy-meets-girl stories. The world he conjures up out of countless references to pop culture old and new, Western and Eastern, is both unprecedented and emotional, attracting very diverse audiences. Miura works widely beyond theatre, including as a scriptwriter for television dramas, music video director, and workshop instructor. His play "Handsome Daigo" was shortlisted for the 60th Kishida Kunio Drama Award, and he won the Drama Scriptwriting Prize at the 16th Confetti Awards for the 2019 NHK TV drama "Fujoshi, ukkari gei ni kokuru."
Takaki Sudo

Takaki Sudo is involved with all forms of video and filming for the performing arts, from designing videos used in performances to video documentation. Carefully incorporating the intentions of the director, he expands the scope of the work through video and provides a new viewing experience for audiences. He curates and organizes the irregular event ANTIQU, which screens video documentation of performing arts works. In May 2020, he launched the online performance "The Theater is You."
Yuni Hong Charpe

Yuni Hong Charpe is an artist who lives and works in France and Japan. Their work often begins with reflections on site-specific stories and personal memories, exploring plurality and instability by questioning identities constructed from normative attributes. In 2022, they plan to be in residence at the Kinosaki International Arts Center to work on the ENCORE project. Yuni Hong Charpe has also worked with the collective Mapped to the Closest Address to create dance scores in Honolulu and -Nantes, France. They are a rResearch fFellow at the Institute of Contemporary Arts Kyoto.
https://www.yunihong.net
Chieko Ito

Dancer and choreographer Chieko Ito founded Strange Kinoko Dance Co. in 1989, directing and choreographing all its performances until it disbanded in 2019. Known professionally until then as Chie Ito, she has since worked widely under her real name of Chieko as a choreographer and performer. She choreographed television commercials for Loto in 2018–19 and BASE in 2021. Her "everyday dance" posts on social media enjoy a strong following.
https://www.instagram.com/the_chiekooos
Yukio Suzuki

Yukio Suzuki is a choreographer, dancer, and head of YUKIO SUZUKI Projects. He started as a butoh dancer at Asbestos Hall in 1997, leaving in 2000 to pursue his own activities. He has worked in over forty cities worldwide, dazzling audiences with his physique and dance style that is supple and dainty yet tenacious, as if extending beyond the performance space. Suzuki has performed in music videos, worked as a model, and collaborated with musicians as well as choreographed and directed dance for children, and led workshops for people with disabilities. He continues to develop his wide-ranging activities that freely release both the body and senses, and stimulate individuality and sensibility. He was one of the ten finalists at Danse Elargie, held in 2012 at Théâtre de la Ville, Paris.
www.suzu3.com
Lena Michaelis

Lena Michaelis is a dancer and writer based in Berlin. Since her childhood, she has never stopped dancing. Central to her work is thinking of sound as movement. After publishing her first radio plays, she did a master's degree in creative writing and dance studies. Her encounter with butoh then changed her way of dancing and, perceiving the body, and she remains fascinated by its poetics, methods, and creation. In 2020, she had the opportunity to work with Nanako Nakajima's dance "archive box" and create a response to Yukio Suzuki's "Volatile Body – EVANESCERE." This exchange had a great influence on her. Michaelis continues her ongoing research on dance vocabulary and poetics. In 2021, she won the SAAI Prize for AI, Art and Society for her multilingual dance project Transpondancer, which . will be performed in Malta in May 2022.
Maxie Liebschner

Born in 1993 in Freital, Germany, Maxie Liebschner studied theatre, media, and literature at Bayreuth University. She then moved to Berlin to do a master's degree in dance science at Freie Universität Berlin. During a semester abroad in Sweden, at Stockholm University, she started her research into the ecological similarities between the composition of choreographies and landscapes. This involves the study of movements in different spaces, connecting literature with theatre, theatre with film, and film with dance. She is always questioning how we move, watch, and listen in all these frames and spaces. Through different arts and media, Liebschner aims to discover the richest ways of telling a story by collaborating with numerous collectives and artists with backgrounds in performance, theatre, dance, and media. From 2019 to 2020, she participated in Nanako Nakajima's "archive box" dance research and dramaturgy project and created a respone to Yukio Suzuki's "Volatile Body – EVANESCERE." She is currently finishing her master's degree at Freie Universität Berlin.