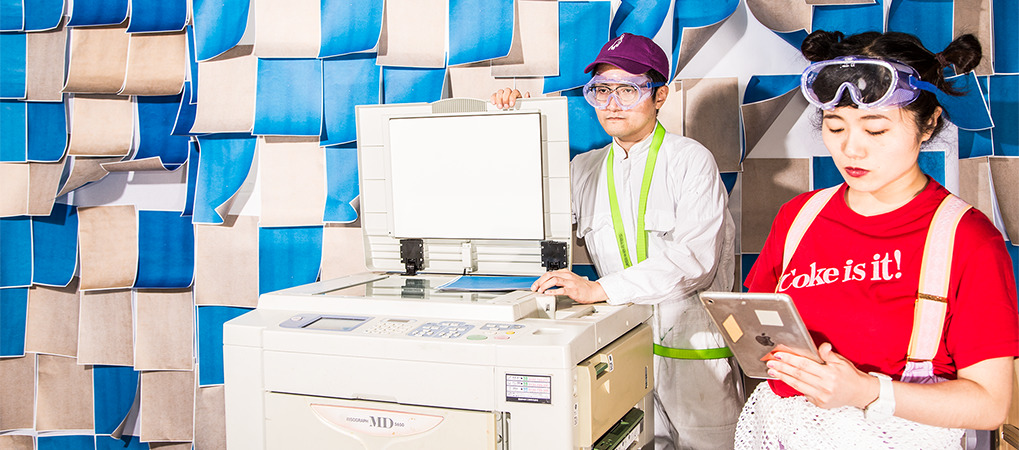 Photo: minamiasami
Hand Saw Press
Drop-in Riso Zine Studio
Artistic Direction: Hand Saw Press
A pop-up studio for making your own zine
Hand Saw Press is a DIY studio space in the west Tokyo district of Musashi Koyama where people can use a Risograph, a type of digital duplicator similar to a mimeograph. The venue hosts regular printing and woodwork workshops, live music events, readings, and more, forming a diverse creative hub whose facilities, tools, and know-how are available to members of the public to use. During F/T19, a special printing studio by Hand Saw Press is open in Toshima ward. Anyone can drop in and try making his or her own zine. Creating and exchanging zines, the space functions as a place for artists, locals, and everyone in the city to come into contact with new ideas and aspects of culture through printing.
Information
Event
Hand Saw Press "Drop-in Riso Zine Studio"
Dates

10/12 (Sat) – 11/10 (Sun)
10/12: Due to Typhoon Hagibis, the Drop-in Riso Zine Studio will not be open. Instead, it will now open from 10/13.
Thursdays, Saturdays, Sundays, National Holidays: 14:00–19:00
Tuesdays: 18:00–22:00
Zines can be made during the above times.
Thursdays: 20:00–22:00 BAR ZINE (talks and events with the members of Hand Saw Press and other guests; details TBA)
BAR ZINE closed on 10/31 due to unforeseen circumstances

Venue
Drop-in Riso Zine Studio
3-55-1 Minami-Otsuka, Toshima-ku, Tokyo 170-0005
Language
Japanese
English-language information available
Tickets
30 sheets of A4/A3 paper (per person and session on a single day): free
60 sheets: ¥500, 100 sheets: ¥1,000
Users can select their paper and make their own zine with the digital duplicator on site.
Payment by cash only.
Fees may be charged for workshops, talks, and other events.
Artist Profile
Hand Saw Press

Hand Saw Press is a DIY space for workshops and events, equipped with a Risograph printing press and woodworking tools. It was opened in 2018 in Musashi Koyama by the architect Shinsuke Kanno (AM-A-LAB), spatial designer Ryoko Ando (design musica), and restaurant owner and editor Akinobu Oda (map/Nagi Shokudo).
Cast & Creative
| | |
| --- | --- |
| Artistic Direction: | Hand Saw Press (Ryoko Ando, Shinsuke Kanno) |
| Publicity Design: | Nobuyuki Eguchi |
| Publicity Photograph: | minamiasami |
| Operation Support: | Akinobu Oda (map/Hand Saw Press) |
| Planning Support: | Yoshihiko Wada (ferment books) |
| Operation Assistant: | Ikumi Taguchi (ikik/Hand Saw Press) |
| Set-up: | design musica (Moemi Akama, Hayate Watanabe), Ayami Sasaki (FAIFAI), Run Uchida |
| Production Coordinators: | Toshifumi Matsumiya, Mayuko Arakawa (Festival/Tokyo), Maiko Iwama, Naho Kato (TASKO inc.) |
| Production Assistant: | Miki Kanai |
| Interns: | Manami Ishibashi, Nanami Uematsu, Ryoko Koketsu, Ryo Sugita |
| In special cooperation with | RISO KAGAKU CORPORATION |
News
Due to Typhoon Hagibis, the Drop-in Riso Zine Studio will not be open on October 12th. Weather permitting, we plan to open the studio on October 13th.
Also Recommended