"In our distance, there is no sorrow."
Written and Directed by Yukio Shiba
October 7th — October 15th
Venues
Tokyo Metropolitan Theatre
(Theatre East & Theatre West)
Dates
10/7 (Sat) 19:30
10/8 (Sun) 19:30
10/9 (Mon) 14:00 / 18:00
10/11 (Wed) 19:30
10/12 (Thu) 19:30
10/13 (Fri) 19:30
10/14 (Sat) 14:00* / 18:00
10/15 (Sun) 14:00

No performance: 10/10 (Tue)

*Post-show cafe event

Box office opens 1 hour before. Doors open 30 minutes before.

Running Time
80 min. (TBC)
Language
Performed in Japanese with English surtitles
Tickets
Unreserved seating
Advance: ¥4,000 / Same Day: ¥4,500 / Students: ¥2,600 / Other tickets available
Early Bird Discount
¥2,800
Festival Pass (5 Performances)
¥3,200
Festival Pass (3 Performances)
¥3,400
Students


Student ID required

¥2,600
High School Students and Under


Student ID or proof of age required

¥1,000
Alternate Versions Joint Ticket

¥7,000
Alternate Versions Joint Ticket
See both versions of "I am not sad because you are far away" in the two venues. The tickets can be used by two people, who each see one of the versions of the play performed at the same time. Alternately, one person can use the joint ticket to see both versions on different dates. Only available from the F/T Ticket Center.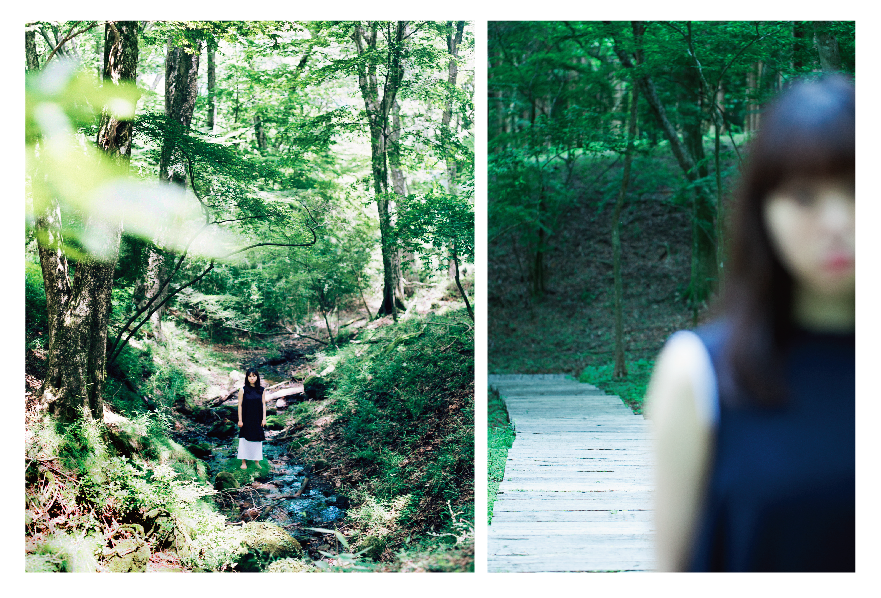 Photo: Hideaki Hamada / Photo: Ivy Chen
A story told simultaneously in two places about what is near yet far away
The playwright and director Yukio Shiba has established a strong reputation for highly individual yet universal theatrical portrayals of humanity. His award-winning musical play "Our Planet" was the allegorical tale of both a planet and a girl. Making his debut at Festival/Tokyo, this premiere is a meditation on the theme of distance and the Great East Japan Earthquake, which Shiba was far away from when it occurred.
Two plays unfold simultaneously across two adjacent theatre spaces, serving as a metaphor for the distance that causes the mental divides and various boundaries separating us. The audiences in each theatre will experience fragments of plays based on songs written by the Taiwanese musician Blaire KO. As they watch, the audiences' imaginations are drawn to the other story happening nearby and how the two plays form a single overall narrative.
A co-production between F/T and Taipei Performing Arts Center (scheduled to open in 2019), the play will be performed at Taipei Arts Festival in 2018. From staging a play on a ship to taking up residence on an island to create new work, Shiba is known for inventively exploring the relationship between theatre, audience and lifestyle. Now he will reveal our futures in the gap between two spaces that are so near yet so far at the same time. For his new work, Shiba has turned to a wide range of Taiwanese collaborators. The costumes have been created by a local fashion brand, TRAN, while the musician Blaire KO composed the tracks from which Shiba structured and wrote the play script.
Photos
Artist Profile
Yukio Shiba
Playwright, Director (mamagoto)
Born in Aichi in 1982, Yukio Shiba is a member of the directing department of Seinendan and a resident artist at Steep Slope Studio. He also teaches at Tama Art University and Shikoku Gakuin University. In 2010, he won the 54th Kishida Kunio Drama Award for "Our Planet." His work has been performed all over Japan at such festivals as the Aichi Triennale and Setouchi Triennale. "Our Planet" is revived in August 2017 with a cast of high school students. He publishes his scripts for free on the website of his company, mamagoto. http://www.mamagoto.org/
Cast & Creative
| | |
| --- | --- |
| Performers: | Masahiro Oishi (mamagoto, NYLON100C), Tomoyo Okada, Kaoruko Oyama, Kazuki Kushio (Seinendan), Seiya Suzuki, Mayumi Tsubaki (Seinenza), Kinuyo Nogami (FAIFAI, march project), Niina Hashida (mamagoto, Seinendan), Riko Fujitani, Hikaru Morioka (Fushigishonen) |
|   |   |
| Written and Directed by | Yukio Shiba (mamagoto) |
| Assistant Director: | Maki Kimata |
| Stage Managers: | Tsubasa Yamashita, Junichi Takahashi |
| Stage Design: | Takuya Aoki |
| Stage Design Assistant: | Kenji Hamasaki |
| Music: | Blaire KO |
| Sound: | Daisuke Hoshino (Sound Weeds Inc.) |
| Sound Operator: | Mizuho Sorimachi (Sugar Sound) |
| Lighting: | Ryoya Fudetani |
| Lighting Operator: | Megumi Shimoda, Shoko Mishima |
| Video: | Mamoru Kano (WOW / Futurismo Zugakousaku), Hironobu Sone (Tohoku Institute of Technology), Takuya Inagaki (WOW), Yuki Saito (WOW) |
| Video Technician: | Takaki Sudo |
| Costumes: | TRAN |
| Costume Coordinator: | Keith Lin |
| Entrance Design: | Ryoko Ando (DESIGN MUSICA) |
| Publicity Design: | Ivy Chen, Hideaki Hamada |
| Publicity Hair & Makeup: | Asumi Washizuka |
| Publicity Design: | Yuma Harada (UMA / design farm) |
| Documentation: | Kuan-Yu Chen |
| Surtitles: | Christopher Gregory |
| Surtitles Supervisor: | Hachiya Mizutani |
| Production Website Editor: | Makiko Ochi (LittleSophy) |
| Publicity supported by | Pola Museum of Art |
| Special cooperation from | Steep Slope Studio |
| In cooperation with | OPOSS INC., letre, Seinenza Film Production, Seinendan, NYLON100C, Switch Research Institute, FAIFAI, Fushigishonen, march project |
| Production Coordinators: | Mayuko Arakawa (Festival/Tokyo), Nakaba Kato (mamagoto) |
| Production Managers: | Chika Kawai (Festival/Tokyo), Takuo Miyanaga (mamagoto, ZuQnZ) |
| Taiwan Coordinator: | Yukio Nitta |
| Interns: | Sara Gunnare, Haruna Kobayashi, Misaki Hayashi, Mai Yamamoto |
| Front of House: | Urara Tsukuni |
| Presented by | Festival/Tokyo, mamagoto |
| Supported by | The Saison Foundation |
|   |   |
| Co-produced by | Festival/Tokyo, Taipei Performing Arts Center |
| Supported by | the Ministry of Culture (Taiwan)  |
| In cooperation with | Department of Cultural Affairs, Taipei City Government; Taipei Culture Foundation; Taiwan Cultural Center, Taipei Economic and Cultural Representative Office in Japan |
| Research and workshop supported by | Performing Arts Alliance, CO3, Tainan City Government |
| | |