F/T in the City Performance Series
This highly diverse art and performance series unfolds in various places around Tokyo and its surrounding area. Bringing audiences into contact with local history, culture and communities, the site-specific events shape a new relationship between spectators and participants.
Shigeki Nakano + Frankens "Halfway to Hanshichi" 
Written and Directed by Shigeki Nakano
Dramaturge: Kaku Nagashima
Based on "The Curious Casebook of Inspector Hanshichi" by Kido Okamoto
October 6th — October 9th
Venues
PARADISE AIR, FANCLUB (start point), and other locations
Dates
10/6 (Fri) 15:00
10/7 (Sat) 11:00 / 15:00
10/8 (Sun) 11:00 / 15:00
10/9 (Mon) 11:00 / 15:00


Running Time
165 min.
Language
Performed in Japanese
Tickets
Unreserved seating
Advance: ¥3,500 / Same Day: ¥4,000 / Students: ¥2,300 / Other tickets available

Early Bird Discount
¥2,500
Festival Pass (5 Performances)
¥2,800
Festival Pass (3 Performances)
¥3,000
Students


Student ID required

¥2,300
High School Students and Under


Student ID or proof of age required

¥1,000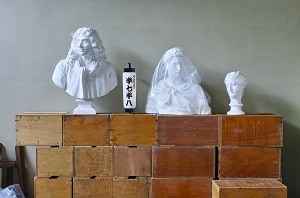 Photo: Yusuke Abico

Box office opens 1 hour before. Doors open 30 minutes before.
Includes outdoor performance.
The performance is a tour of multiple venues, starting from FANCLUB.
Continues in case of rain. Canceled in case of storm. Updates are published on the F/T website.
There is no roof over the audience seating. In case of rain, please bring a raincoat.
Audiences using wheelchairs should please contact the F/T Ticket Center before purchasing a ticket.
On the trail of Edo's famous old detective stories in Matsudo
Known for its radical "mistranslations" of Western and Eastern classics into contemporary everyday settings, Shigeki Nakano + Frankens returns to Festival/Tokyo for the first time in four years. This new work is based on the popular Kido Okamoto detective stories, "The Curious Casebook of Inspector Hanshichi," which are richly steeped in the atmosphere of Edo (feudal-era Tokyo). Audiences will experience this site-specific adaptation in the city of Matsudo in Chiba Prefecture, which is separated from Tokyo by a river. Hunting for clues to solve a mysterious case, audiences travel between various unique locations in the city.
Photos
Artist Profiles
Shigeki Nakano + Frankens
Formed in 2003, this company has developed a unique style of freely adapting and arranging translated drama and theatre texts. Its unorthodox and revisionist approach has both enthralled and angered fans of the original plays. Since 2010, its output has also included applied drama activities outside of regular theatre spaces.
Shigeki Nakano
Director (Shigeki Nakano + Frankens)
Born in Tokyo in 1973, Shigeki Nakano teaches theatre at Nihon University. His recent work has focused on outreach, workshops and education as well as international exchange. His double bill "Yotsuya Zotanshu + Yotsuya Kaidan" was featured in Festival/Tokyo 2013.
Cast & Creative
| | |
| --- | --- |
| Written and Directed by | Shigeki Nakano |
| Dramaturge: | Kaku Nagashima |
| Based on | "The Curious Casebook of Inspector Hanshichi" by Kido Okamoto |
| Performers: | Eiji Takeda, Yuya Tanaka, Michiyoshi Suzuka, Takeshi Fukuda, Takehiro Go, Maki Koizumi, Junko Saito, Rei Kitagawa, Ai Sasaki, Olivier Kazuma Michihiro, Minami Shindo, Maika Koguchi, Shiro Suzuki (A.C.O.A) |
| Lighting: | Hideya Takahashi |
| Stage Manager: | Megumi Sato |
| Sound Co-ordination: | Wataru Shoji (PARADISE AIR) |
| Assistant Stage Manager: | Saki Takashima |
| Audience Movement Supervisor: | Mari Hoshi, Aki Miyatake(PARADISE AIR) |
| Map: | Rinako Horikiri, Nao Nakamura |
| Photography: | Kazuyuki Matsumoto |
| Video Documentation: | Takaki Sudo |
| Flyer Design: | Tadashi Ueda |
| Production Coordinators: | Saori Azuma, Ayuchi Mizubuchi , Toshifumi Matsumiya (Festival/Tokyo) |
| Production Assistant: | Hatsumi Kakinoki |
| Interns: | Minako Iwai, Asuka Noguchi, Aoi Hashimoto, Saki Yokomi |
| Front of House: | Maiko Iwama |
| Presented by | PARADISE AIR, Festival/Tokyo |
| In cooperation with | Hamatomo Corporation, Machizu Creative Co., Ltd. |
| | |
| | Supported by the Agency for Cultural Affairs, Government of Japan in the fiscal 2017 |
| | Supported by the Matsudo City Community Culture Project |
| | |