"Blue Tarp"
Text, Direction: Norimizu Ameya
November 14th – November 15th, December 4th – December 6th
Venue
Former Toshima City 10th Junior High School
(sports field)
Dates
11/14 (Sat) 11:00/14:30
11/15 (Sun) 11:00/14:30
12/4 (Fri) 14:30
12/5 (Sat) 11:00/14:30
12/6 (Sun) 11:00
Box office opens 1 hour before.
Doors open 30 minutes before.

Duration
100 min. (no interval)
Language
Japanese (no surtitles)
Tickets
Advance: ¥3,500 (Standing: ¥2,500)
Day: ¥4,000 (Standing: ¥3,000)
Unreserved seating
Tickets on general sale from September 27th, 10:00
Early Bird Discounts
Limited numbers of tickets will be sold at a special discount of around 30% on the following four days:
September 23rd to September 26th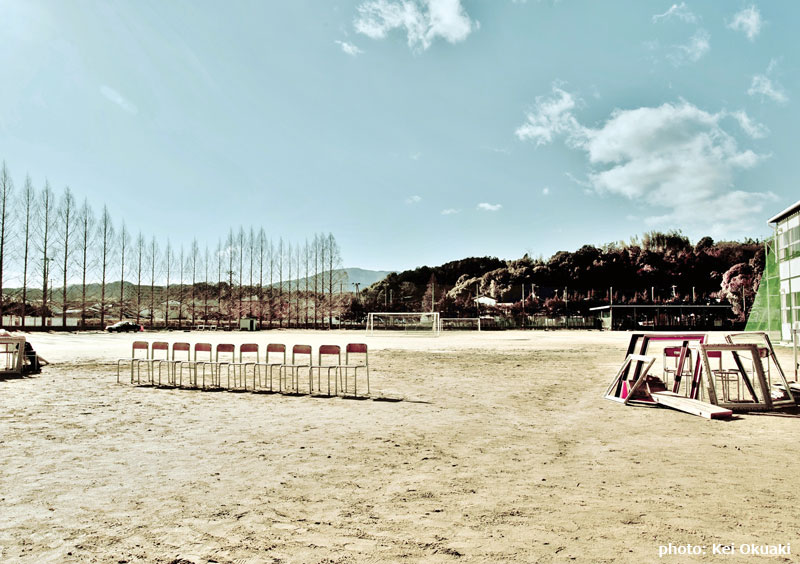 A story of trauma and hope, told by Fukushima high school students
"Blue Tarp" was first developed with 10 students from Fukushima Prefectural Iwaki Sogo Senior High School in 2013. The students performed it in the grounds of their school, housed in a temporary building and with the signs of the 2011 earthquake and tsunami's destruction still visible in the background. This haunting story of life, death, and hope saw the students struggle to come to terms with their absent classmate. Though performed for only two days, it won great acclaim and was awarded Japan's top drama prize. Two years on, it is revived with the original cast in the grounds of a former school in Toshima.
"Blue Tarp" is performed outside with temporary seating.
The performance will go ahead in case of light rain but is cancelled or postponed in case of storms or heavy rain. Please be aware in advance that the venue is outdoors, with no heating or cover (umbrellas are not permitted during the performance). Please come suitably dressed for the weather conditions.

Cancellations & Postponement
Please check the F/T website from 19:00 on the day before to confirm if a performance will go ahead as scheduled. However, announcements are subject to further updates. Please check the F/T website on 8:00 on the day of the performance to confirm.
Ticket-holders will be contacted by the F/T Ticket Center about refunds if a performance is cancelled.
No parking facilities are available at the venue.

Photos
Artist Profile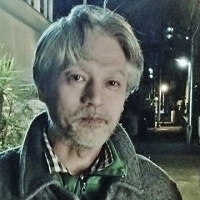 Norimizu Ameya
Director, artist
Born in 1961. Norimizu Ameya initially worked with Juro Kara's theatre company before founding Tokyo Grand Guignol 1984. In the 1990's, he moved into the field of visual art. He participated in the Venice Biennale in 1995 but then went on an artistic hiatus for some years, during which time he opened a pet shop. He returned to visual art in 2005 and to theatre in 2007. His theatre work has previously appeared at F/T in 2009 with a revival of his 2007 SPAC production of "Transfer Student" (by Oriza Hirata) and a staging of "4.48 Psychosis" (by Sarah Kane), followed by "The shape of me" in 2010, and "ground" in 2011. He created an art tour of the Kunisaki peninsula in 2012 and 2014, along with novelist Mariko Asabuki. In 2013, he won the 58th Kishida Kunio Drama Award for "Blue Tarp", which was presented in 2013 at Fukushima Prefectural Iwaki Sogo Senior High School. In the same year, he also took part in Osaka International Art Festival for Kids with a play for children created by his own family. He formed a new group, Grand Guignol Future, in 2014, creating a performance based on an actual aviation accident with art critic Noi Sawaragi. In his wide-ranging work he has also performed with the likes of Takahiro Fujita (mum & gypsy), Fuyuki Yamakawa, and Otomo Yoshihide.
Cast & Creative Team
Text, Direction:
Norimizu Ameya
Cast:
Graduates of Fukushima Prefectural Iwaki Sogo Senior High School
Assistant Director:
Aki Nishijima
Stage Design, Sound:
Norimizu Ameya
Technical Manager:
Eiji Torakawa
Stage Manager:
Koro Suzuki
Sound Co-ordination:
Akira Aikawa (Sound Weeds Inc.)
Production Co-ordination:
Masanori Okuno, Akane Nakamura (precog), Toshifumi Matsumiya, Hirotomo Kojima, Sachio Ichimura (Festival/Tokyo)
Presented by
Festival/Tokyo
In co-operation with
Fukushima Prefectural Iwaki Sogo Senior High School