Asia Series Vol.4: China
"Trayastrimsa"
Conceived, Directed and Stage Design by Tianzhuo Chen
November 10th — November 11th
Venue
Owlspot Theater
Dates
11/10 (Fri) 19:00*
11/11 (Sat) 19:30

*Post-show talk

Box office opens 1 hour before. Doors open 15 minutes before.
The performance includes adult themes, strobe and bright lights, and loud and bass sounds.
Running Time
70 min.
Tickets
Unreserved seating
Advance: ¥3,500 / Same Day: ¥4,000 / Students: ¥2,300
Early Bird Discount
¥2,500
Festival Pass (5 Performances)
¥2,800
Festival Pass (3 Performances)
¥3,000
Students


Student ID required

¥2,300
High School Students and Under


Student ID or proof of age required

¥1,000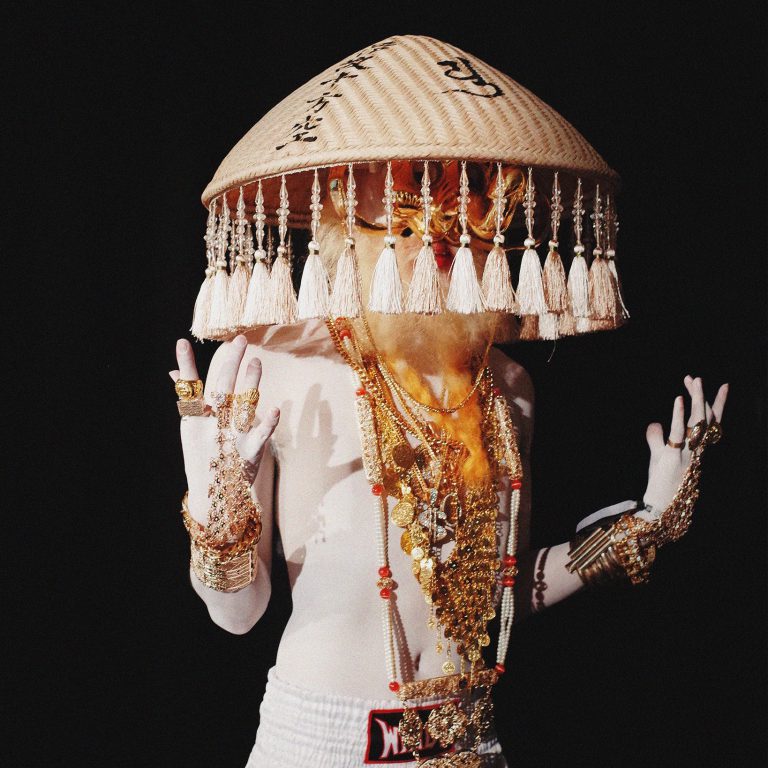 Photo: Qianarrchy
Ancient gods meet club music in this unique world of chaos
Chinese art's latest enfant terrible, Tianzhuo Chen is a truly interdisciplinary innovator, shifting easily from fine art like sculpture and painting to design fields such as graphic design and fashion, all while freely mixing elements of both Western and Asian culture into psychedelic and pop-inspired projects. Following time spent studying in the UK, his immersion in the music and club scenes around Europe has given birth to a new fusion of live music and performance. Audiences in Tokyo will experience an unparalleled event where contemporary club culture clashes with the ancient world of the gods.
Artist Profile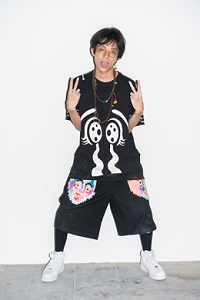 Tianzhuo Chen
Born in Beijing in 1985, Tianzhuo Chen graduated from Central Saint Martins in 2009. In 2010, he completed a master's degree at Chelsea College of Arts. Currently based in Beijing, he works collaboratively with dancers, musicians, and international artists. His reputation overseas continues to grow, including appearances in 2017 at such major festivals as Wiener Festwochen and Theater der Welt in Hamburg.
Cast & Creative
| | |
| --- | --- |
| Conceived, Directed and Stage Design by | Tianzhuo Chen |
| Performers: | Yu Han, Beio, Ylva Falk |
| Music: | Aïsha Devi, Kakushin Nishihara |
| Lighting Designer & Operator: | Akihiko Tanida |
| Technical Manager: | Eiji Torakawa |
| Assistant Technical Manager: | Chizuru Kouno |
| Stage Manager: | Kentaro Sakurai |
| Stage Assistants: | Yui Kato, Shiori Fukuzawa |
| Props: | Hikari Osanai |
| Lighting Coordinator: | Naoki Kinoshita (Factor Co., Ltd.) |
| Sound Coordinator: | Akira Aikawa (Sound Weeds Inc.)) |
| Costumes | Kyoko Fujitani (FAIFAI) |
| Makeup: | Mizumi Nakanishi, Miwa Nishimoto |
| Technical Interpreter: | Sonoko Ishii |
| Publicity Design: | Taichi Abe (GOKIGEN) |
| Front of House: | Yuko Takeda |
| | |
| Photography: | Jun Ishikawa |
| Video Documentation: | Takaki Sudo |
| | |
| Production Coordinators: | Akiko Juman, Yuko Takeda (Festival/Tokyo) |
| Production Assistant: | Niina Sugai |
| Interns: | Mayu Umemura, Zhuoran Rong, Natsuko Nishi, Ayano Nishimoto, Kotono Horikoshi |
|   |   |
| Program Coordinator: | Hitomi Oyama |
|   |   |
| Planned and presented by | Festival/Tokyo |
Asia Series Vol.4: China
Chinese Millennials
Every year at Festival/Tokyo, the Asia Series showcases an Asian nation's performing arts and visual art. The fourth edition of the series focuses on China, especially the nation's millennial generation born between the 1980s and 2000s.
This generation grew up after the Cultural Revolution ended in 1976 and the start of the economic reforms in 1978. Today comprising 30% of the population of China, the millennials are a leading force in consumer trends. The generation has been online ever since it can remember as well as absorbing aspects of pop culture from America, Europe and Japan. It is no longer usual for young people in the big cities to have received education overseas and this kind of experience stimulates many artists to develop a critical stance toward contemporary society in their work, which is nonetheless rooted in their own nation's history and culture.
Asia Series
Each year the Asia Series chooses one country in the Asian region and showcases examples of its performing arts, music, visual art, and more. Launched in 2014, the inaugural series presented South Korean performing arts, followed by Myanmar at F/T15 and Malaysia at F/T16. The fourth iteration of the series focuses on China. The showcase is curated based on research into the local arts scene, social conditions, history and culture. In this way, it conveys what is shared and differs within contemporary Asia, forming a foundation for sustainable exchange premised on the diversity of language and culture.