"Woodcutters"
Adapted, Stage Design, Lighting and Directed by Krystian Lupa
Based on the novel by Thomas Bernhard
October 21st — October 23rd
Venue
Tokyo Metropolitan Theatre (Playhouse)
Dates
10/21 (Fri) 16:00*
10/22 (Sat) 16:00**
10/23 (Sun) 13:00*
Box office opens 1 hour before. Doors open 30 minutes before.
Box office and lobby open 1 hours before. Doors open 15 minutes before.
*Pre-show talk (Japanese only) Open only to ticket holders for the performance on the same day
**Special pre-show talk by the directorOpen to all (no ticket required)
Running Time
260 min. (with interval)
Language
Performed in Polish with Japanese surtitles
English synopsis available
Tickets
Advance: ¥5,500 / Same Day: ¥6,000
All seats reserved
Early Bird Discount
¥3,800
Festival Pass (5 Performances)
¥4,400
Festival Pass (3 Performances)
¥4,700
Students


Student ID required

¥3,000
High School & Under Tickets


Student ID or proof of age required

¥1,000

The decadence of society and theatre exposed at an artistic dinner party
This highly acclaimed production by Polish theatre giant Krystian Lupa, known for his remarkable set designs and sharply critical eye, makes its long-awaited debut in Japan. Based on the novel by Austrian writer Thomas Bernhard, the play takes place over a gathering of old friends from the theatre world. The "artistic dinner", as the hosts like to call it, follows the funeral of an actress who committed suicide. As the bohemians drink and talk, the sham of their decadence gradually unravels, exposing their inner fears, damage, and grudges. Eventually, they turn on each other. Inspired by actual events, Bernhard's scandalous book led to a lawsuit after it was published. Swinging like the axe of a woodcutter, this razor-edged satire remains vivid and relevant today for our supposedly fair and democratic society. It is a radical journey deep into the world that lurks under the surface of cultural conventions. Touching on the problem of the illusory freedom of our lives, and constraint, the natural condition of humanity, the play also poses questions concerning artists and their role in society.
Pre-show talks Held in the theatre lobby. Open to ticket holders for performances that day.
10/21 (Fri) 15:10-15:40 / 10/23 (Sun) 12:10-12:40 Guest Speakers: Koichi Kuyama (Theatre and film programmer, Instytut Polski w Tokio), Masahiko Yokobori (F/T Program Coordinator)
Special pre-show talk by Krystian Lupa Held in the theatre lobby. Open to all members of the public (reservations required, limited to 50 persons)
10/22 (Sat) 11:00-12:30 Krystian Lupa in conversation with theatre critic Hidenaga Otori In Polish with Japanese interpretation
Photos
Artist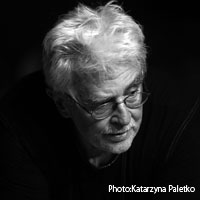 Krystian Lupa
Director, Stage Designer, Writer
Born in 1943, Krystian Lupa is a director and writer who also designs scenography and lighting. He studied physics, painting, graphic design, and stage directing, and made his debut as a director in 1976 with Mro􏰊zek's "The Slaughterhouse". He has enjoyed a long relationship with the Stary Theatre in Krakow since 1980, where he started to focus on adapting and directing the work of Russian, German and Austrian writers. He has had particular success with adapting the plays and novels of Thomas Bernhard, long considered difficult to stage, such as "Immanuel Kant", "The Lime Works", "Extinction" and "Heldenplatz". Recent major work includes "Factory 2", "Persona. Marilyn", and "Waiting Room.0". He is current working with Polski Theatre in Wrocław on a stage adaptation of Franz Kafka's "The Trial".
Cast & Creative
Adapted, Stage Design, Lighting and Directed by
Krystian Lupa
Based on the novel by
Thomas Bernhard, translated by Monika Muskała
Also incorporating
improvisations by Krystian Lupa and the cast; quotations from the work of Jeannie Ebner and Friederike Mayröcker; and dialogue from "Sebastiansplatz" by Verena Lercher
Costumes:
Piotr Skiba
Music Arrangement:
Bogumił Misala
Improvisation on Henry Purcell's "Cold Song" theme in "Sebastiansplatz" by Mieczysław Mejza
Video:
Karol Rakowski, Łukasz Twarkowski
Performers:
Piotr Skiba, Halina Rasiakówna, Wojciech Ziemiański, Marta Zięba, Jan Frycz (guest appearance from the National Theatre in Warsaw), Ewa Skibińska, Bożena Baranowskal, Andrzej Szeremeta, Adam Szczyszczaj, Michał Opaliński, Marcin Pempuś, Anna Ilczuk, Krzesisława Dubielówna


Assistant Directors:
Oskar Sadowski; Sebasian Krysiak, Amadeusz Nosal (State Higher School of Theatre in Krakow)
Stage Manager:
Ewa Wilk
Prompter:
Magdalena Kabata
Technical Manager:
Jadwiga Ziemińska
Stage Assemblers:
Adam Buraczek, Grzegorz Kloc, Paweł Stanaszek, Łukasz Szyszk
Lighting:
Paweł Olszewski, Dariusz Bartołd, Kazimierz Blacharski
Sound:
Maciej Kabata, Marcin Niebojewski
Dresser:
Joanna Zborowska
Hair & Makeup:
Mateusz Stępniak, Marianna Bartnicka
Project Coordinator:
Magdalena Płyszewska
Produced by
Polski Theatre in Wrocław


Tokyo Production
Technical Manager:
Eiji Torakawa
Assistant Technical Manager:
Chizuru Kouno
Stage Manager:
Keisuke Watanabe
Stage Assistants:
Kazuhiko Nakahara, Hiromichi Aramaki
Set:
Qi Li, Yang Liu, Xiaoping Li (Tianjin Grand Theatre, Propel Performing Arts & Media Co., Ltd.)
Props:
Xin Hu (Tianjin Grand Theatre, Propel Performing Arts & Media Co., Ltd.)
Lighting Coordinator:
Makiko Sasaki (Factor Co., Ltd.)
Sound Coordinator:
Akira Aikawa (Sound Weeds Inc.)
Video Coordinator:
Yutaka Endo (LUFTZUG)
Props Coordinator:
Hikari Osanai
Costumes:
Kyoko Fujitani (FAIFAI)
Surtitles:
Shiori Ueno
Translation:
Koichi Kuyama
Technical Interpretation:
Zabko-Potopowicz Krzysztof, Hitomi Oyama
Publicity Design:
Taichi Abe (GOKIGEN)
Front of House:
Yukari Goto (TEAM#BISCO)
Photography:
Jun Ishikawa
Video Documentation:
Mikami Ryo, Takaki Sudo
Production Coordinator:
Akiko Juman (Festival/Tokyo)
Production Assistant:
Niina Sugai
Interns:
Mizuki Ishikawa, Ching, Mei Tung, Yosuke Mori, Airi Yokoyama
Program Coordinator:
Masahiko Yokobori
Special cooperation from
Instytut Polski w Tokio, Propel Performing Arts & Media Co., Ltd.
Endorsed by
Embassy of the Republic of Poland, Austrian Embassy Tokyo, Austrian Cultural Forum Tokyo
Co-presented by
Culture.pl
Presented by
Festival/Tokyo