Outdoor Performance Series
A new experiment by F/T starting in 2016 in east Ikebukuro: Four outdoor performances of theatre, dance and music
"Song Tree"
Hirokazu Morikawa (choreographer, performer) + Wataru Murakami (choreographer, performer) + Shonen Yoshida (music)
November 10th — November 13th
Venue
Toshima City Office (10F Toshima Forest)
Dates
11/10 (Thu) 11:00/15:00
11/11 (Fri) 11:00/15:00
11/12 (Sat) 11:00/15:00
11/13 (Sun) 11:00/15:00

Box office opens 1 hour before. Doors open 30 minutes before.

Performed outside. Continues in case of rain. Cancelled in case of storm.
Running Time
50 min. (TBC)
Language
Performed in Japanese
Tickets
Advance: ¥1,500 / Same Day: ¥2,000
Unreserved seating
Early Bird Discount
¥1,100
Festival Pass (5 Performances)
¥1,200
Festival Pass (3 Performances)
¥1,300
Students


Student ID required

¥1,000
High School & Under Tickets


Student ID or proof of age required

¥1,000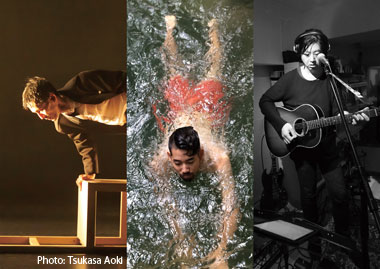 Transforming the hue of the city through dance, music, and a garden
The dancer Hirokazu Morikawa is known for his playful, inquisitive and precise style, as demonstrated to the full in "Mr. Creature" at F/T14. This performance sees Morikawa partner with Kansai-based dancer Wataru Murakami and musician Shonen Yoshida to utilize multiples parts of the rooftop garden of Toshima City Office. The two dancers' bodies become one with the sculptures and foliage in the garden as well as Yoshida's music performed live, creating a whole new kind of cityscape.
Announcements on Performances "Song Tree" is performed outside at Toshima Forest, on the tenth floor of Toshima City Office. Information about decisions regarding performances will be announced on the F/T website in advance, regardless of weather conditions, at 19:00 on the day before the performance. However, this decision is subject to change. A final decision is made at 9:00 on the morning of the performance and announced on the F/T website Audiences are requested to attend performances in clothing suitable for weather conditions. Umbrellas cannot be used during performances.
Artists
Hirokazu Morikawa
Dancer
Hirokazu Morikawa studied mime and circus in France from the age of 22. On his return to Japan he worked for five years for the Kyoto-based Monochrome Circus. Freelance since 2007, his dry and animalistic style that utilizes his outstanding balance has won him much acclaim. Aside from his own work, he also collaborates with a range of other units. He created "Mr. Creature" with stage designer Itaru Sugiyama for F/T14.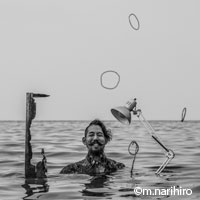 Wataru Murakami
Performer, Choreographer
Born in 1987 in Osaka, Wataru Murakami studied street dance, and later became involved in contemporary dance, butoh, meditation, Zen and more, as well as the Osaka club, street performance and theatre scene. He has recently performed improv with dancers and musicians around the world. His liberated yet delicate style emphasizes just being in a place and listening quietly to the voice of the body.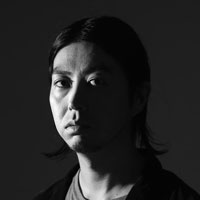 Shonen Yoshida
Musician
Based in Kyoto, Shonen Yoshida was a member of Quruli from 2011-2013, handling guitar and cello duties on "Voltage of Melting Pot". He has organized a monthly live performance event in Kyoto since 2014, performing with a wide range of other musicians. He wrote the music for the stage adaptation of Hirohiko Araki's "Under Execution, Under Jailbreak" in 2015, and has attracted much attention for his cross-genre collaborations.
Cast & Creative
| | |
| --- | --- |
| Choreographers, Performers: | Hirokazu Morikawa, Wataru Murakami |
| Music, Performer: | Shonen Yoshida |
| Sound: | Kazuyuki Onouchi |
| Flyer Design: | Tadashi Ueda |
| Photography: | Kazuyuki Matsumoto |
| Video Documentation: | Ryohei Tomita |
| Production Coordinator: | Toshifumi Matsumiya (Festival/Tokyo) |
| Assistant Production Co-ordinator: | Hiroshi Iwata |
| Interns: | Mai Shimada, Tamami Matsumura, Keisuke Yoshihara |
| Front of House: | Yumiko Okazaki |
| Presented by | Festival/Tokyo |