Asia Series Vol.3: Malaysia (lecture)
"POLITIKO"
Lecturer, Concept: Mun Kao
November 8th — November 12th
Venue
Morishita Studio
Dates
11/8 (Tue) 19:00
11/9 (Wed) 19:00
11/10 (Thu) 19:00
11/11 (Fri) 19:00
11/12 (Sat) 18:00

Box office opens 1 hour before. Doors open 30 minutes before.
Running Time
120 min. (TBC)
Language
In English (with Japanese interpretation and translation)
Tickets
Advance: ¥1,500 / Same Day: ¥2,000
Early Bird Discount
¥1,100
Festival Pass (5 Performances)
¥1,200
Festival Pass (3 Performances)
¥1,300
Students


Student ID required

¥1,000
High School & Under Tickets


Student ID or proof of age required

¥1,000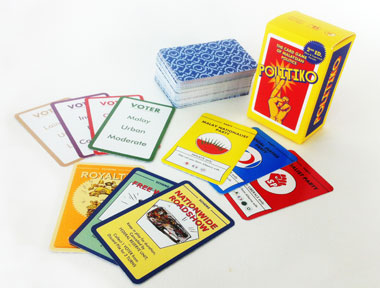 Play the "game" of Malaysian politics
POLITIKO is a card game about winning the Malaysian general election. Pick a political party, initiate a policy of cash handouts, promise to abolish highway tolls – and, if all else fails, hit your opponents with a sex scandal! Following a talk with the designer, Mun Kao, participants have the chance to play the game and experience the complex vagaries of Malaysian politics.
Photos
Artist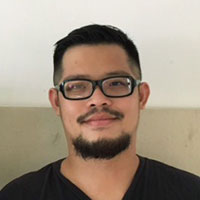 Mun Kao
Designer, Artist
Born in 1982 in Kuala Lumpur, Mun Kao is a visual artist as well as game designer who works on a range of creative projects. His previous collaborations include with Master Chang, a Feng Shui expert. He is the creator of POLITIKO, a card game where players try to outmaneuvre each other in the vagaries of Malaysian politics. He is also the co-founder of Centaur (Centre for Artful and Useful Recreation), a research initiative that develops educational tools based on ludic principles.
Cast & Creative
| | |
| --- | --- |
| Lecturer, Concept: | Mun Kao |
| Game Design, Illustrations: | Mun Kao |
| Game Design, Text: | Zedeck Siew |
| Art Direction, Graphic Design: | Sueh Li Tan |
| Production Coordinators: | Shiori Sunagawa, Ayano Misao, Orie Kiyuna |
| In cooperation with | The Saison Foundation |
| Co-organized by | the Japan Foundation Asia Center |
| Produced and presented by | Festival/Tokyo |
Asia Series Vol.3: Malaysia
Artistic responses to multi-ethnic society
This year the series examines Malaysia, a complex mix of ethnic groups and cultures. The nation continues to embrace globalization through strengthening foreign investment, IT and heavy industry.
Bringing together an ethnically varied range of artists, the program includes performances as well as lectures and talks, and even a card game that allows audiences to experience Malaysian politics. There are also generational differences, with Jo Kukathas and Oimin Wong being born in the 1960s during the early days of Malaysian independence, while Renxin Lee, Mun Kao and Suri Liu were born in the 1970s and 1980s, a period when Malaysia began to develop rapidly.
This year's festival theme is "beyond borders". Comprising different languages, religions, customs and ethnic groups, Malaysia's contemporary artists engage with problems and approaches that can resonate deeply with Japanese audiences, who today must grapple with the various issues that arise from globalization as they explore the nature of diversity.
Asia Series
Each year the Asia Series chooses one country in the Asian region and showcases its contemporary performing arts scene. Based on careful research into the specific history, culture and social backgrounds of the selected country, the program aspires to introduce artists and form a sustainable platform for exchange between languages, cultures and approaches to the body. Presenting Korea in 2014 and Myanmar in 2015, the curation reflects the diverse contexts and social conditions in each nation through the work of exciting local artists.
Co-organized by the Japan Foundation Asia Center
F/T Talks 1: Art Projects in Multi-Ethnic Malaysia
This talk features multimedia artist Fairuz Sulaiman and multi-disciplinary artist Roslisham Ismail (Ise), who apply different approaches to the city in their work. They will discuss the art scene and state of culture in Malaysia with a focus on cities and communities.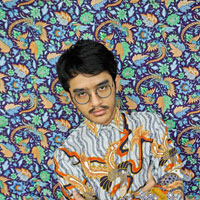 Fairuz Sulaiman
Born in Petaling Jaya in 1982, Fairuz Sulaiman is a multimedia artist working in music video, animation, theatre, and more. He studied film and animation at Multimedia University in Cyberjaya. Combining digital and analog formats, he has made music videos for local indie bands, animation for short films, and created visuals for stage using stop-motion, puppetry, hand-made masks, 3D animation, and live video mixing. Highly acclaimed in Malaysia, his work explores everyday things and performance. Though humorous and accessible, his themes and techniques also incorporate cynical messages about society. He is the program director of DA+C Festival (Digital Art + Culture Festival).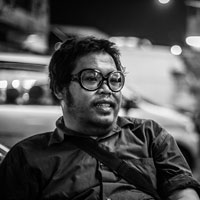 Roslisham Ismail (Ise)
Born in Kota Bharu in 1972, Roslisham Ismail (Ise) is multidisciplinary artist working in installation, video art, and participatory projects. A graduate from MARA University of Technology (UiTM), his practice is largely informed by elements of popular culture, and serves to represent alternative histories of place and culture. His major work includes "The Langkasuka Cookbook" (2012), which preserves Malaysia home cooking and traditions. The art project takes the form of a book the collects old recipes and illustrations for a "mountain rice" dish, based on the memories of his grandmother who lived in the region between Malaysia and Thailand. His installation "Secret Affair" (2011), presented at the Singapore Biennale, exhibited the contents of refrigerators from local houses in an attempt to convey regional communities, lifestyles and culture through food.
| | |
| --- | --- |
| Venue | Tokyo Metropolitan Theatre (Atelier East) |
| Date | 10/22 (Sat) 15:00 |
| Tickets | ¥500 (priority to reservations) |
| Language | English with Japanese interpretation |
| Co-organized by | Japan Foundation Asia Center |