Asia Series Vol.3: Malaysia (performance)
The Instant Café Theatre Company "NADIRAH"
Written by Alfian Sa'at
Directed by Jo Kukathas
November 11th — November 13th
| | |
| --- | --- |
| Venue | Nishi-Sugamo Arts Factory |
| Dates | 11/11 (Fri) 19:0011/12 (Sat) 15:00*11/13 (Sun) 15:00 Box office opens 1 hour before. Doors open 30 minutes before. *Post-show talk |
| Running Time | 120 min. |
Early Bird Discount
¥2,500
Festival Pass (5 Performances)
¥2,800
Festival Pass (3 Performances)
¥3,000
Students


Student ID required

¥2,300
High School & Under Tickets


Student ID or proof of age required

¥1,000
A tale of religious conflict between a mother and daughter
Director Jo Kukathas is known for her portrayals of the frictions and tensions that arise between ethnic groups and religions. This is the first visit to Japan by The Instant Café Theatre Company, the leading Malaysian theatre group led by Kukathas, presenting a family drama by Singaporean playwright Alfian Sa'at. It is the story of Sahirah, an ethnically Chinese mother, who converted to Islam when she married her Malay-Muslim husband. Now divorced and with a bright young daughter, Nadirah. who is the vice president of a Muslim student group, Sahirah falls in love with a non-Muslim doctor. Inspired by Yasmin Ahmad's film "Muallaf" (The Convert), the play explores love, marriage, and the tolerance and mutual understanding needed to coexist in a multicultural society.
Story
Nadirah is the popular and articulate vice president of her university's Muslim society. She convenes inter-faith meetings where students talk about how they should respect one another's spaces. Nadirah is also the product of a mixed marriage: her father is a Malaysian Malay and her mother is a Singaporean Chinese who has converted to Islam. One day, Nadirah's mother tells her that she's going to re-marry, to a man who's not Muslim. Nadirah's best friend, Maznah, believes that everyone has a right to happiness. Her senior, Farouk, however, is outraged and urges her to do "the right thing". How can Nadirah make peace between the various religions in school when she's having the same problems at home? Can mother and daughter worship different gods? Will love or faith prevail?
Photos
Artists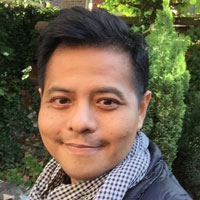 Alfian Sa'at
Poet, Playwright, Writer
Alfian Sa'at is a Resident Playwright with W!LD RICE, one of Singapore's most recognized theatre companies. His published works include three collections of poetry ("One Fierce Hour", "A History of Amnesia" and "The Invisible Manuscript"), a collection of short stories ("Corridor"), a collection of flash fiction ("Malay Sketches"), two collections of plays, and the play "Cooling Off Day".
Sa'at has been nominated 10 times for Best Original Script at the Life! Theatre Awards, eventually winning in 2005 for "Landmarks", in 2010 for "NADIRAH", in 2013 for "Kakak Kau Punya Laki" (Your Sister's Husband), and in 2016 for "Hotel" (with Marcia Vanderstraaten). In 2011, Alfian Sa'at was awarded the Boh-Cameronian Award in Malaysia for Best Book and Lyrics for the musical "The Secret Life of Nora". In 2013, he won the Boh-Cameronian Award for Best Original Script for the play "Parah".
In 2001, Sa'at won the Golden Point Award for Poetry as well as the National Arts Council Young Artist Award for Literature. He has also been nominated for the Singapore Literature Prize three times: for "Corridor" (1999, Commendation Prize), "A History of Amnesia" (2004), and his translation of the novel "The Widower" (2016).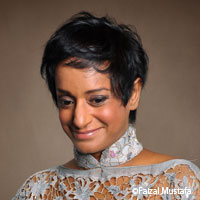 Jo Kukathas
Playwright, Director, Actor, Artistic Director of The Instant Café Theatre Company
Jo Kukathas is an actor, writer and director for The Instant Café Theatre Company in Malaysia and is best known for her politically resonant work and satirical comedies that reflect Malaysia's diverse ethnic, religious and cultural composition and the tensions that reside there.
She directs the classics as well as contemporary plays. Her production of "A Midsummer Night's Dream" (2012), a collaboration with an Indian classical dance company took the audience on a dream of a Hindu past lost in the forests of time and modernity. In her production of "The Merchant of Venice" (2000) she explored the racial and religious tensions between the minority Chinese immigrant world of Shylock, the dominant Malay-Muslim world of Antonio, and the hedonistic world of the young people of the urban capital.
She has also developed new writing with young writers in Malaysia. "Air Con" (2009) by Shanon Shah was about the murder of a transgender prostitute outside an elite boy's boarding school and dealt with gender issues as well as homophobia, religion and bullying. "Flies and Foreigners" by Ridzwan Othman deals with growing xenophobia and race relations. Arun Subramaniam's play "Hero" (2011) is about the murder of a prominent politician from a racial minority in Malaysia.
Her international work includes collaborations with Setagaya Public Theatre, co-writing and directing the multi-lingual play "The Island in Between", featuring actors and designers from Malaysia and Japan. She was part of a three-year Asian collaboration at Setagaya with writer-directors from Indonesia, Thailand, Singapore, Philippines, and Malaysia, who together created the complex, multi-lingual play "Hotel Grand Asia" in Tokyo.
As a writer-director she has toured her own play "Break-Ing" to Tokyo and Singapore, and plans to take her play "Raj and the End of Tragedy" on tour in 2017. She is a highly respected actor in both Malaysia and Singapore, where she has won a number of awards for her solo work, her main and supporting roles as well as her ensemble work. She has conducted theatre workshops and or performed in Malaysia, Taiwan, Japan, Singapore, Brazil, New York and Hong Kong.
She has directed three plays by Alfian Sa'at: "Cooling Off Day" about the general election in Singapore; "Parah" about race and friendship performed in Singapore and Malaysia as well as two Australian festivals, and "NADIRAH" about race, religion and family performed in Singapore and Malaysia.
The Instant Café Theatre Company
In late 1989, four friends — Jo Kukathas, Andrew Leci, Jit Murad, and Zahim Albakri — decided to start their own theatre company. The name for the group comes from the café that served as the venue for the first performance. In addition to actors, the company includes musicians, writers, lawyers, and teachers. The company soon garnered a loyal following for its black comedies and political satire. Its mission is to reconsider contemporary Malaysian society through narratives.
http://instantcafetheatre.com/
Cast & Creative
Written by
Alfian Sa'at
Directed by
Jo Kukathas
Performers:
Sharifah Amani, Neo Swee Lin, Farah Rani, Iedil Putra, Patrick Teoh
Stage Design:
Melissa Teoh
Lighting:
Lim Ang Swee
Sound:
Ng Chor Guan
Sound Operator:
Chua Chia Chern
Costumes:
Shegan Chanadra Sekaran
Stage Manager:
Bobo Sing
Assistant Stage Manager:
Keilly Lim
Production Crew:
Dub Lau
Co-Producer:
Melissa Teoh
Produced by
The Instant Café Theatre Company
Tokyo Production
Technical Manager:
Eiji Torakawa
Assistant Technical Manager:
Chizuru Kouno
Stage Manager:
Keisuke Watanabe
Props, Production Crew:
Hikari Osanai
Sound Coordinator:
Akira Aikawa (Sound Weeds Inc.)
Lighting Coordinator:
Makiko Sasaki (Factor Co., Ltd.)
Surtitles:
Satoru Makuuchi, Shiori Ueno
Surtitles Assistant:
Mizuki Hori
Translation:
Aki Uehara
Technical Translation:
Noriko Yamada
Publicity Design:
Taichi Abe (GOKIGEN)
Front of House:
Akiko Yonehara
Production Coordinators:
Shiori Sunagawa, Ayano Misao, Orie Kiyuna
Interns:
Kazuki Kurokawa, Hiromi Komorita, Hana Fukui
Photography:
Tsukasa Aoki
Video Documentation:
SAIKOUDO Co., Ltd.
Co-organized by
the Japan Foundation Asia Center
Presented by
Festival/Tokyo
Asia Series Vol.3: Malaysia
Artistic responses to multi-ethnic society
This year the series examines Malaysia, a complex mix of ethnic groups and cultures. The nation continues to embrace globalization through strengthening foreign investment, IT and heavy industry.
Bringing together an ethnically varied range of artists, the program includes performances as well as lectures and talks, and even a card game that allows audiences to experience Malaysian politics. There are also generational differences, with Jo Kukathas and Oimin Wong being born in the 1960s during the early days of Malaysian independence, while Renxin Lee, Mun Kao and Suri Liu were born in the 1970s and 1980s, a period when Malaysia began to develop rapidly.
This year's festival theme is "beyond borders". Comprising different languages, religions, customs and ethnic groups, Malaysia's contemporary artists engage with problems and approaches that can resonate deeply with Japanese audiences, who today must grapple with the various issues that arise from globalization as they explore the nature of diversity.
Asia Series
Each year the Asia Series chooses one country in the Asian region and showcases its contemporary performing arts scene. Based on careful research into the specific history, culture and social backgrounds of the selected country, the program aspires to introduce artists and form a sustainable platform for exchange between languages, cultures and approaches to the body. Presenting Korea in 2014 and Myanmar in 2015, the curation reflects the diverse contexts and social conditions in each nation through the work of exciting local artists.
Co-organized by the Japan Foundation Asia Center
F/T Talks 1: Art Projects in Multi-Ethnic Malaysia
This talk features multimedia artist Fairuz Sulaiman and multi-disciplinary artist Roslisham Ismail (Ise), who apply different approaches to the city in their work. They will discuss the art scene and state of culture in Malaysia with a focus on cities and communities.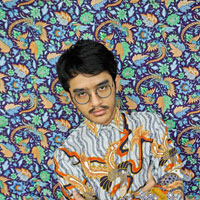 Fairuz Sulaiman
Born in Petaling Jaya in 1982, Fairuz Sulaiman is a multimedia artist working in music video, animation, theatre, and more. He studied film and animation at Multimedia University in Cyberjaya. Combining digital and analog formats, he has made music videos for local indie bands, animation for short films, and created visuals for stage using stop-motion, puppetry, hand-made masks, 3D animation, and live video mixing. Highly acclaimed in Malaysia, his work explores everyday things and performance. Though humorous and accessible, his themes and techniques also incorporate cynical messages about society. He is the program director of DA+C Festival (Digital Art + Culture Festival).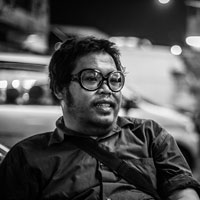 Roslisham Ismail (Ise)
Born in Kota Bharu in 1972, Roslisham Ismail (Ise) is multidisciplinary artist working in installation, video art, and participatory projects. A graduate from MARA University of Technology (UiTM), his practice is largely informed by elements of popular culture, and serves to represent alternative histories of place and culture. His major work includes "The Langkasuka Cookbook" (2012), which preserves Malaysia home cooking and traditions. The art project takes the form of a book the collects old recipes and illustrations for a "mountain rice" dish, based on the memories of his grandmother who lived in the region between Malaysia and Thailand. His installation "Secret Affair" (2011), presented at the Singapore Biennale, exhibited the contents of refrigerators from local houses in an attempt to convey regional communities, lifestyles and culture through food.
| | |
| --- | --- |
| Venue | Tokyo Metropolitan Theatre (Atelier East) |
| Date | 10/22 (Sat) 15:00 |
| Tickets | ¥500 (priority to reservations) |
| Language | English with Japanese interpretation |
| Co-organized by | Japan Foundation Asia Center |