"Festival Fukushima! @Ikebukuro Nishiguchi Park"
Direction: PROJECT FUKUSHIMA! + Seinoshin Yamagishi
October 15th — October 16th
Venue
Ikebukuro Nishiguchi Park
Dates
10/15 (Sat) 15:00-20:00
10/16 (Sun) 13:00-18:30
Continues in case of rain. Cancelled in case of storm.
Tickets
Free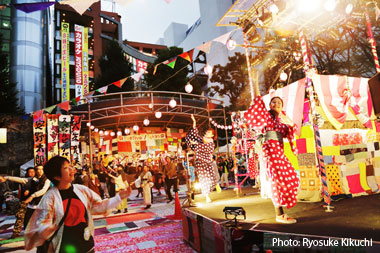 A Fukushima-inspired outdoor festival of live music and songs
PROJECT FUKUSHIMA! once again opens Festival/Tokyo with two days of music and dance, featuring a giant cloth on the ground made with materials collected from around Japan as well as live music and an original Bon dance with a special song inspired by Ikebukuro. Following its earlier appearances in 2014 and 2015, this is the final chance at F/T to catch this community event first launched in the wake of the 2011 Great East Japan Earthquake to restore something positive to Fukushima. Highlights include the Ikebukuro Bon Band, newly formed by guitarist Jun Nagami with members of the public, and a Bon dance with unique costumes that anyone can join in.
Videos & Photos
Artists & Creative Team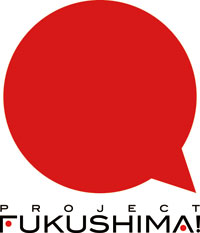 PROJECT FUKUSHIMA!
Founded by musicians Michiro Endo and Otomo Yoshihide, and poet Ryoichi Wago after the Great East Japan Earthquake in 2011 to tell the world about Fukushima's present and future in a positive way. Every August it organizes "Festival Fukushima!" in the prefecture and the event has also been held in other areas around Japan. As it enters its fifth year, the group continues to expand its membership and has led to independent activities in other regions. Seinoshin Yamagishi became the new director in 2015.
PROJECT FUKUSHIMA! website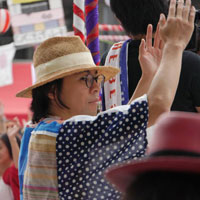 Seinoshin Yamagishi
Representative & Director of PROJECT FUKUSHIMA!
Born in 1974 in Fukushima City, Seinoshin Yamagishi studied media art at university and has exhibited art both in Japan and internationally. He also works as a TV producer. He has been participating in PROJECT FUKUSHIMA! ever since it was founded in 2011 and became the sole representative in 2015. In 2011, he filmed a documentary for NHK about the process of making the original "Festival Fukushima!" event. Based in Kamakura since 2006, he established the creative team ROOT CULTURE with local friends, working to promote regional resources and culture.
Cast & Creative
| | |
| --- | --- |
| Direction: | PROJECT FUKUSHIMA! + Seinoshin Yamagishi |
| PROJECT FUKUSHIMA! Design Department: | Akiko Koike, Tohru Nakazaki, Shintaroh Ono, Cohta Asano, Chiaki Sakaguchi |
| PROJECT FUKUSHIMA! Office: | Akiko Tomiyama, Yuki Numata |
| Participating Artists: | Ikebukuro Bon Band, Otomo Yoshihide, Jun Nagami, Akihiro Okachi, Strange Kinoko Dance Company, and more |
| Sound: | Yoshiaki Kondoh (GOK Sound) |
| Lighting: | LEVEL☆G CO., Ltd. |
| Electrical Power: | R. Biru Maintenance |
| Stall Adviser: | Office Tanaka |
| Stall Coordination: | AGALIKO |
| Construction: | Duskin Rent-All Shinjukushintoshin Event Center |
| Set: | torawork |
| Operation, Production (Stage): | infusiondesign |
| Stage Manager: | Yo Takano |
| Photography: | Ryosuke Kikuchi |
| Video Documentation: | Hikaru Fujii |
| Publicity Design: | Soichi Suzuki |
| Production Support: | Keizo Maeda |
| Production Coordinators: | Mayuko Arakawa, Yumiko Okazaki, Takako Yokoi, Orie Kiyuna |
| Bon Dance Team Support: | Owlspot (Toshima Future Culture Foundation), Edo-Tokyo Open-Air Architectural Museum, Ohtsuka Awa Odori Executive Committee |
| Sewing Team Support: | Coudre |
| Presented by | Festival/Tokyo |