Outdoor Performance Series
A new experiment by F/T starting in 2016 in east Ikebukuro: Four outdoor performances of theatre, dance and music
DOCU(NT)MENT "The Unknown Dancer in the Neighboring Town"
Written, Choreographed and Directed by Suguru Yamamoto
December 1st — December 4th
Venue
Owlspot Theater (Foyer)
Dates
12/1 (Thu) 19:3012/2 (Fri) 15:0012/3 (Sat) 19:3012/4 (Sun) 17:00Box office opens 1 hour before. Doors open 30 minutes before.
Running Time
90 min. (TBC)
Language
Performed in Japanese with English surtitles
Tickets
Advance: ¥2,500 / Same Day: ¥3,000
Unreserved seating
Early Bird Discount
¥1,800
Festival Pass (5 Performances)
¥2,000
Festival Pass (3 Performances)
¥2,200
Students


Student ID required

¥1,600
High School & Under Tickets


Student ID or proof of age required

¥1,000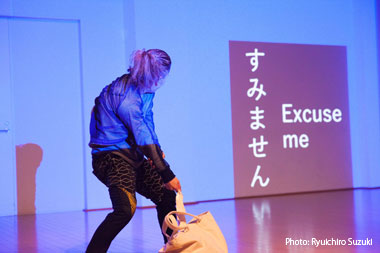 A portrait of the city emerges from projections of body and language
The playwright and director Suguru Yamamoto, who leads the up-and-coming theatre group HANCHU-YUEI, started this solo documentary project to investigate the life of a single human being. In partnership with the dancer Wataru Kitao, the project premiered in 2015 and also attracted acclaim at TPAM Direction in Yokohama this February. From the diffuse reflections of Kitao's strong, supple body and Yamamoto's minimal yet sharp projected text emerges a portrayal of the city.
Photos
Artists
DOCU(NT)MENT
DOCU(NT)MENT is a solo project launched in 2012 by HANCHU-YUEI's Suguru Yamamoto to examine the background of a single human being.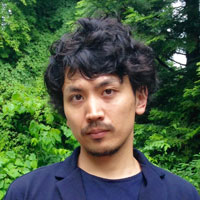 Suguru Yamamoto
Playwright, Director (HANCHU-YUEI)
Born in Yamanashi Prefecture in 1987, Suguru Yamamoto has attracted attention in Japan and Asia for his unique style of staging that combines projected text, photography, video, color, light, and shadow with performers, as well as his scripts that question our ethics. He has co-produced performances in Malaysia, Thailand, India, and Singapore, and his play "Girl X" won Best Play and Best Original Script awards at the Bangkok Theatre Festival in 2014. Another play, "I can't die without being born", was shortlisted for the 59th Kishida Kunio Drama Award in 2015.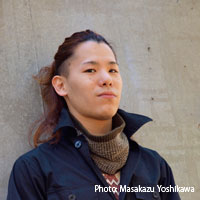 Wataru Kitao
Choreographer, Dancer, Actor (Baobab)
Born in 1987, Wataru Kitao has been involved with the performing arts since his youth, and has experience with everything from ballet to street dance. He studied at J. F. Oberlin University under Kuniko Kisanuki and formed a dance company, Baobab, in 2009. With its remarkable ensemble style, the group has participated in numerous festivals as well as produced its own tours. Kitao also appears in and choreographs performances outside his work with Baobab. He received the Audience Award at the Toyota Choreography Award 2012.
Cast & Creative
| | |
| --- | --- |
| Written, Choreographed and Directed by | Suguru Yamamoto |
| Choreographed, Directed and Performed by | Wataru Kitao |
| Stage Manager: | Susumu Kumaki |
| Lighting: | Takayuki Tomiyama |
| Sound: | Junko Miyazaki (Sound Weeds Inc.) |
| Video: | Takaki Sudo |
| Costumes: | Kyoko Fujitani (FAIFAI) |
| Photography: | Ryuichiro Suzuki |
| Video Documentation: | Takaki Sudo |
| Production Coordinators: | Yumina Kato (Steep Slope Studio), Orie Kiyuna (Festival/Tokyo) |
| Interns: | Yoji Usuki, Kaname Sakata, Haruka Toda |
| Front of House: | Mayuko Arakawa |
| Produced by | Steep Slope Studio |
| In cooperation with | HANCHU-YUEI, Baobab |
| Presented by | Festival/Tokyo |