Asia Series Vol.3: Malaysia (performance)
"B.E.D. (Episode 5)"
Conceived, Directed and Choreographed by Ren Xin Lee
November 12th — November 13th
Venues
Koto ward
Reception: SAKuRA Gallery
Dates
11/12 (Sat) 12:00/15:00*
11/13 (Sun) 12:00/15:00*
*Post-show talk
Running Time
90 min. (TBC)
Tickets
Advance: ¥2,000 / Same Day: ¥2,500
Early Bird Discount
¥1,400
Festival Pass (5 Performances)
¥1,600
Festival Pass (3 Performances)
¥1,700
Students


Student ID required

¥1,300
High School & Under Tickets


Student ID or proof of age required

¥1,000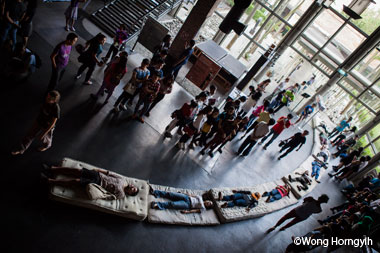 Weaving the contours of society through space, bodies, and mattresses
Ren Xin Lee is an experimental choreographer and dancer whose signature series has seen her use mattresses as symbols of comfort and security, exploring the public and the private, and questions of belonging to a space versus possessing. This is the premiere of the latest entry in the series. Around the venue, audiences encounter mattresses and dancers composed in various images and situations. In collaboration with the dancers, Lee creates a unique site-specific work following a residency period in Tokyo.
Photos
"B.E.D. (Episode 1)"
"B.E.D. (Episode 1)"
"B.E.D. (Episode 1)"
"B.E.D. (Episode 1)"
"B.E.D. (Episode 2)"
"B.E.D. (Episode 2)"
"B.E.D. (Episode 2)">
"B.E.D. (Episode 2)"
"B.E.D. (Episode 4)"
"B.E.D. (Episode 4)"
"B.E.D. (Episode 4)"
"B.E.D. (Episode 4)"
Artist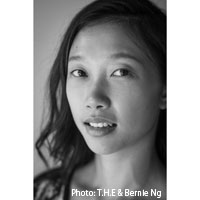 Ren Xin Lee
Choreographer, Dancer
Ren Xin Lee is a dancer and choreographer based in Malaysia. Her work has been presented at Festival BO:M in Seoul, M1 Contact Festival, National University of Singapore Arts Festival, The Third Space in Singapore da:ns festival, International Young Choreographers Project in Taiwan, MyDance Festival, Dancing In Place, d'MOTION in Malaysia, and in "2 Minute Solos (Art Meets Politics)", curated by Marion D'Cruz. She studied dance at the Nanyang Academy of Fine Arts in Singapore, and completed a Bachelor of Fine Arts (BFA) in dance at the Purchase Conservatory of Dance, State University of New York. She has been called one of the most talented young choreographers in Malaysia by Marion D'Cruz, a founder of Five Arts Center.
In 2013, she participated in a dance dramaturgy mentorship with Lim How Ngean, organized by The Esplanade, Singapore. In 2014, she joined the Southeast Asian Choreolab held by MyDance Alliance at Rimbun Dahan, facilitated by Janis Claxton. In the same year, she received the Krishen Jit Astro Fund, which supported her to conceive and explore this B.E.D. project. In June 2016, she was a Fellowship Grantee at the Festival Teaterformen in Braunschweig, Germany. Lee danced project-based with The Human Expression (T.H.E.) Dance Company in Singapore and briefly with LeeSaar The Company in New York City. She is also a project dancer with the DPAC Dance Company in Malaysia.
Cast & Creative
| | |
| --- | --- |
| Conceived, Directed and Choreographed by | Ren Xin Lee |
| Performers: | Tan Bee Hung, Faiq Syazwan Kuhiri, Leow Hui Min, Lau Beh Chin |
| Technical Manager: | Eiji Torakawa |
| Stage Manager: | Chikage Yuyama |
| Sound: | Yasutaka Kobayakawa |
| Sound Coordinator: | Akira Aikawa (Sound Weeds Inc.) |
| Video: | Ryohei Tomita |
| Translation, Production Assistant: | Yuka Takebuchi |
| Video Support: | Janome Sewing Machine Co., Ltd. (Tokyo Branch), Takabashi Noraku Road, Toy Park Masamiya |
| Publicity Design: | aichi Abe (GOKIGEN) |
| Front of House: | Takako Yokoi |
| Production Coordinators: | Shiori Sunagawa, Ayano Misao, Orie Kiyuna |
| Interns: | Tomoki Kurokawa, Hiromi Komorita, Hana Fukui |
| Photography: | Tsukasa Aoki |
| Video Documentation: | Ryohei Tomita |
| In cooperation with | The Saison Foundation |
| Co-organized by | the Japan Foundation Asia Center |
| Presented by | Festival/Tokyo |
Asia Series Vol.3: Malaysia
Artistic responses to multi-ethnic society
This year the series examines Malaysia, a complex mix of ethnic groups and cultures. The nation continues to embrace globalization through strengthening foreign investment, IT and heavy industry.
Bringing together an ethnically varied range of artists, the program includes performances as well as lectures and talks, and even a card game that allows audiences to experience Malaysian politics. There are also generational differences, with Jo Kukathas and Oimin Wong being born in the 1960s during the early days of Malaysian independence, while Renxin Lee, Mun Kao and Suri Liu were born in the 1970s and 1980s, a period when Malaysia began to develop rapidly.
This year's festival theme is "beyond borders". Comprising different languages, religions, customs and ethnic groups, Malaysia's contemporary artists engage with problems and approaches that can resonate deeply with Japanese audiences, who today must grapple with the various issues that arise from globalization as they explore the nature of diversity.
Asia Series
Each year the Asia Series chooses one country in the Asian region and showcases its contemporary performing arts scene. Based on careful research into the specific history, culture and social backgrounds of the selected country, the program aspires to introduce artists and form a sustainable platform for exchange between languages, cultures and approaches to the body. Presenting Korea in 2014 and Myanmar in 2015, the curation reflects the diverse contexts and social conditions in each nation through the work of exciting local artists.
Co-organized by the Japan Foundation Asia Center
F/T Talks 1: Art Projects in Multi-Ethnic Malaysia
This talk features multimedia artist Fairuz Sulaiman and multi-disciplinary artist Roslisham Ismail (Ise), who apply different approaches to the city in their work. They will discuss the art scene and state of culture in Malaysia with a focus on cities and communities.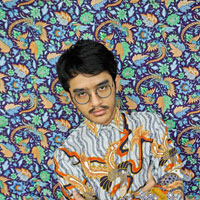 Fairuz Sulaiman
Born in Petaling Jaya in 1982, Fairuz Sulaiman is a multimedia artist working in music video, animation, theatre, and more. He studied film and animation at Multimedia University in Cyberjaya. Combining digital and analog formats, he has made music videos for local indie bands, animation for short films, and created visuals for stage using stop-motion, puppetry, hand-made masks, 3D animation, and live video mixing. Highly acclaimed in Malaysia, his work explores everyday things and performance. Though humorous and accessible, his themes and techniques also incorporate cynical messages about society. He is the program director of DA+C Festival (Digital Art + Culture Festival).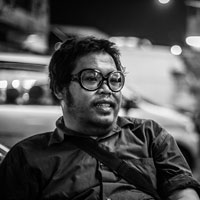 Roslisham Ismail (Ise)
Born in Kota Bharu in 1972, Roslisham Ismail (Ise) is multidisciplinary artist working in installation, video art, and participatory projects. A graduate from MARA University of Technology (UiTM), his practice is largely informed by elements of popular culture, and serves to represent alternative histories of place and culture. His major work includes "The Langkasuka Cookbook" (2012), which preserves Malaysia home cooking and traditions. The art project takes the form of a book the collects old recipes and illustrations for a "mountain rice" dish, based on the memories of his grandmother who lived in the region between Malaysia and Thailand. His installation "Secret Affair" (2011), presented at the Singapore Biennale, exhibited the contents of refrigerators from local houses in an attempt to convey regional communities, lifestyles and culture through food.
| | |
| --- | --- |
| Venue | Tokyo Metropolitan Theatre (Atelier East) |
| Date | 10/22 (Sat) 15:00 |
| Tickets | ¥500 (priority to reservations) |
| Language | English with Japanese interpretation |
| Co-organized by | Japan Foundation Asia Center |