Kunhyung Park + Namsan Arts Center "All the Soldiers are Pathetic"
Written and Directed by Kunhyung Park (Theatre Company Golmokil)􏰃
October 27th — October 30th
Venue
Owlspot Theater
Dates
10/27 (Thu) 19:30
10/28 (Fri) 19:30
10/29 (Sat) 14:00*10/30 (Sun) 14:00Box office opens 1 hour before. Doors open 30 minutes before.*Post-show talk
Running Time
100 min. (no interval)
Language
Performed in Korean with Japanese surtitlesEnglish synopsis available
Tickets
Advance: ¥3,500 / Same Day: ¥4,000
All seats reserved
Early Bird Discount
¥2,500
Festival Pass (5 Performances)
¥2,800
Festival Pass (3 Performances)
¥3,000
Students


Student ID required

¥2,300
High School & Under Tickets


Student ID or proof of age required

¥1,000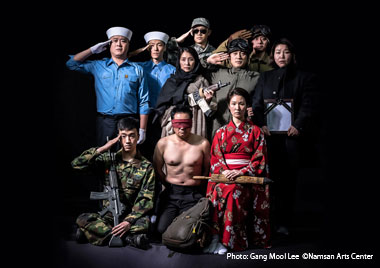 The memories of the dead ask questions of the living
Kunhyung Park's Theatre Company Golmokil cuts deep into contemporary society from the perspective of those who dwell in the backstreets. After producing a satire about the previous president of South Korea, Kunhyung Park had difficulty making new work for some time due to government pressure. Premiered in March to widespread attention, this ambitious play unfolds across four storylines: an army deserter in 2015; Korean kamikaze pilots in 1945; contractors for the United States military in Iraq in 2004; and the crew of a patrol boat sunk near Baengnyeong Island, on the maritime boundary with North Korea, in 2010. Tracing the lives of these people, the at times witty play transcends the divide of history to pose compelling questions for our lives in the present. Who is the perpetrator and who is the victim? Why is there war? And where is the real battle line?
Photos
Artist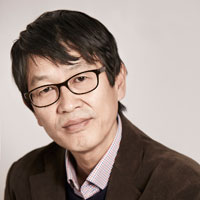 Kunhyung Park
Playwright, Director (Theatre Company Golmokil)
Born in 1963, Kunhyung Park also teaches directing at Korea National University of Arts. His major productions include "Beautiful Youth", "Generation after Generation", "Kyungsook, Kyungsook's Father", "A Manchurian Front", "Frog", and Hideto Iwai's "Outer World". In Japan, his work has been staged at Shinjuku Tiny Alice, Ueno Storehouse, and Aomori Museum of Art. In 2010, he directed a Korean version of Oriza Hirata's "A Long Night in the Tropics", which won a South Korea Theatre Award.
Cast & Creative
Written and Directed by
Kunhyung Park
Performers:
Yeonik Chang, Jinhwan Son, Jieun Kang, Younchoon Han, Jinwoong Lim, Donggap Seo, Soohee Ko, Taegeon Kwon, Wonjae Lee, Hoyeal Lee, Kookjin Kim, Eunu Kim, Byunggeon Kim, Kyoungil Kim, Dongwon Kim, Jaehyun Shim, Soyoung Ahn, Sarang Shin, Yeongbeom Na, Jeehwan Ahn
Technical Manager:
Minsoo Park
Stage Design:
Sangbong Park
Stage Manager:
Eunjun Lee
Lighting:
Changgi Kim
Lighting Operator:
Myungjin Lee
Music, Sound:
Minsoo Park
Sound Operator:
Soomin Hong
Choreographer:
Seongho Choi
Costumes, Props:
Eunchang Bae, Hyeseong Ryu
Makeup:
Kyeongsuk Jang, Sujin Park
Surtitles Operator:
Jinung Jung
Translation:
Juri Ishikawa
Production Coordinators:
Hoyeal Lee, Juri Ishikawa, Yourim Jo (Namsan Arts Center), Moon Noh (Namsan Arts Center)
Co-produced by
Namsan Arts Center, Theatre Company Golmokil
Tokyo Production
Technical Manager:
Eiji Torakawa
Stage Manager:
Kazuhiko Nakahara
Stage Assistant:
Yukiko Kato
Lighting Coordinator:
Makiko Sasaki (Factor Co., Ltd.)
Sound Coordinator:
Akira Aikawa (Sound Weeds Inc.)
Surtitles Coordinator:
Satoru Makuuchi
Props Coordinator:
Hikari Osanai
Costumes:
Naomi Shinohara
Makeup:
Mizumi Nakanishi
Technical Interpreter:
Myunghwa Hong
Publicity Design:
Taichi Abe (GOKIGEN)
Front of House:
Yukari Goto (TEAM#BISCO)
Photography:
Jun Ishikawa
Video Documentation:
SAIKOUDO Co., Ltd.
Production Coordinator:
Akiko Juman (Festival/Tokyo)
Production Assistant:
Niina Sugai
Interns:
Mizuki Ishikawa, Ching Mei Tung, Yosuke Mori, Airi Yokoyama
Presented by
Festival/Tokyo