Festival/Tokyo has announced the full lineup of 16 productions for the 2016 festival this autumn.
Based in the Ikebukuro area of Toshima, Tokyo, Festival/Tokyo (F/T) is Japan's largest performing arts festival. Festival/Tokyo 2016 runs from October 15th to December 11th for 58 days as part of Tokyo Metropolitan Festival 2016, featuring 16 productions in the Main Program and 14 productions in the Affiliated Program.
A press conference will be held to announce details of the program, followed by a special guest lecture on the work of Polish theatre giant Krystian Lupa, whose work is appearing in Japan for the first time as part of F/T16.

F/T16 Press Conference
August 30th / 14:00-14:50 (Doors open: 13:30)
Guests: Piotr Rudzki (theatre scholar, dramaturge for Polski Theatre in Wrocław), Sachio Ichimura (Director, Festival/Tokyo)
The press conference is held in Japanese and Polish

Lecture: The Theatre of Krystian Lupa
August 30th / 15:00-16:00
Introducing the work of the Polish theatre giant
Lecturer: Piotr Rudzki
The lecture is in Polish with Japanese interpretation
Venue: Embassy of the Republic of Poland
2-13-5 Mita, Meguro, Tokyo 153-0062
Presented by Festival/Tokyo
Co-presented by Instytut Polski w Tokio
Endorsed by Embassy of the Republic of Poland
Reservations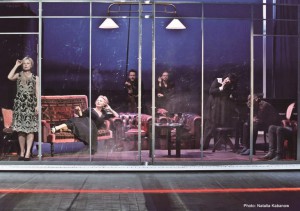 Piotr Rudzki
A theatre scholar and dramaturge for Polski Theatre in Wrocław, Piotr Rudzki taught at the University of Delhi from 1995 to 2000, and currently teaches at the University of Wrocław. Specializing in contemporary Polish theatre, his book published in 2013 about the work of Stanisław Ignacy Witkiewicz (Witkacy) also offered a comprehensive perspective on Polish theatre from 1956 to 1989. Since 1994, he has served as an editor of the Polish theatre magazine Notatnik Teatralny (Theatrical Notebook), and has written many articles about Krystian Lupa.