Dancers are invited to audition for a new dance work directed and choreographed by Pichet Klunchun, which will be performed this autumn at Festival/Tokyo 2017.
Acclaimed for his unique symbiosis of Thai traditions and contemporary style, Pichet Klunchun is one of the most important dance artists in Asia today. He will create a new outdoor work for Festival/Tokyo. Ahead of this, he will visit Japan in March as a Saison Artist in Residence Visiting Fellow through the support of The Saison Foundation, and will hold auditions for performers during his stay.
Supported by The Saison Foundation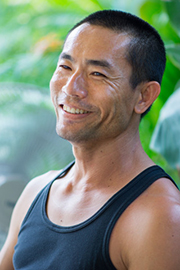 Pichet Klunchun
Dancer and choreographer Pichet Klunchun is trained in Thai classical mask dance (Khon) and works with a fusion of both traditional and contemporary sensibilities. After graduating from Chulalongkorn University with a degree in art and applied arts, he started his career in the performing arts as a dancer and choreographer. His has worked in North America, Asia and Europe. His awards include the rank of Chevalier in the Ordre des Arts et des Lettres (2012) and the John D. Rockefeller 3rd Award from the Asian Cultural Council (2014). His recent work that has been performed in Japan includes "Dancing with Death" (2016) and "Black and White" (2015).
Photo: Sutras Rungsirisilp
Audition Dates
March 17th, 2017: 11:00-14:00 / 18:00-21:00
March 18th, 2017: 11:00-14:00 / 18:00-21:00
Candidates are required to attend only one session.
Auditions Venues
Studio in Tokyo (TBD)
Audition Fee
None
Available Positions
10-20
Application Deadline
March 12th, 2017 / 23:59
Auditions are held in either Thai or Japanese. No English-language support is offered. Please note that applications can only be accepted in Japanese. For further information, including qualifications and online application forms, please see the F/T Japanese website.
Inquiries (Japanese-language only)
Email: ft-office@festival-tokyo.jp
Previous work by Pichet Klunchun