Applications are now open for a workshop and demonstration by a director and a performer from Teatr ZAR, the international theatre company based at the Grotowski Institute. The workshop will be held in English with consecutive Japanese interpretation.


The workshops are also open to non-participatory observers.
The change, and an ability to recognise it, is the main and fundamental aspect of every drama.

How to make a live, visible stream of permanent movements, how to structure them within their inner micro-dramaturgical potential? How to learn your partner a unique code of your own acting body communication? How to create a body-text without a common body language?

During the workshop the dramaturgical concept of four physical centres of actor will be introduced: Pelvis/Coccyx Center; The Chest/Collarbones Center; The Third Center – The Breath; and Seeing/Hearing/Perception as the Fourth Body Center – all of them creating an unique organism for incorporating drama.

Dates: 11/26 (Thu), 11/27 (Fri) 13:00-17:00
Venue: Tokyo Metropolitan Theatre (Rehearsal Room)
Instructors: Jarosław Fret, Simona Sala (Teatr ZAR)

---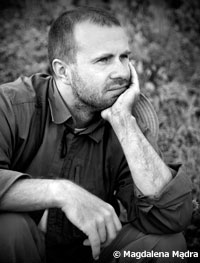 Jarosław Fret
Director, actor, head of Teatr ZAR, Director of Grotowski Institute
Jarosław Fret is the founder and leader of Teatr ZAR, as well as a theatre director and actor, the director of the Grotowski Institute, and curator of the theatre program of Wrocław: European Capital of Culture 2016. In 1999-2002, he carried out a series of expeditions to Georgia, Armenia, and Iran, conducting research into the oldest forms of religious music of Eastern Christianity. In the following years, together with members of Teatr ZAR, he organized expeditions to Athos mountain in Greece, Sardinia, Corsica, Armenia, Turkey, Israel. In 2013, he presented "Armine, Sister", dealing with the Armenian Genocide. The work of Teatr ZAR is presented around the world.

---
Language:
English (with Japanese interpretation)
Requirements
– 18 years old and in a healthy physical condition
– Able to participate in both workshop dates
– Possess acting experience
Participants will receive insurance coverage for injury.
Underage participants require a signed consent form from a guardian.
Fee
¥2,000 (in advance)
Capacity
16 participants (chosen by lottery)
Application Deadline
October 20th (Tue)
Applications
Please send the following information to the email address at the bottom of the page.
All applicants will be contacted by F/T by October 27th.
1. Name
2. Date of birth
3. Gender
4. Address
5. Daytime contact telephone number
6. Email address
7. Workplace/school
8. Nationality
9. Language ability (English, Polish) (please include qualifications and/or overseas experience, if any)
10. Previous acting experience (in English)
---
Workshop Observation
The workshop is also free to watch as an observer, though capacity is limited to 20 places (chosen by lottery). Please make a reservation below.
Apply

Applications & Inquiries
Festival/Tokyo
"Polish Theatre Today"
Email: ft-office@festival-tokyo.jp
Tel: 03-5961-5202 (weekdays 11:00-19:00)
All information submitted with applications will be handled in accordance with festival policies regarding personal information. It shall be used only for the purposes of this workshop and will be deleted after it is no longer needed.